The war on the Notch: LG patents phone with an under-screen selfie camera
4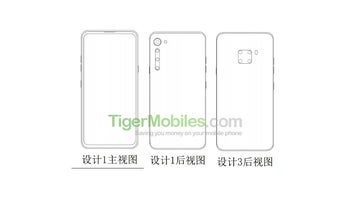 The dreaded Notch — it has drawn ire ever since the
iPhone X
made it super-popular. Some don't mind it, some hate it — and the latter group does so with a passion. Every Android manufacturer who decided to follow in Apple's footsteps has received at least a bit of mocking from the smartphone fanbase. And so, the Notch began shrinking, as smartphone makers are looking for ways to get rid of it.
As a result, we now have O-shaped cutouts, most prominently seen on Samsung's latest smartphones. Holes big enough to hold the selfie camera and nothing more. Many claim this look — while not perfect — is much less intrusive when they are enjoying their all-screen smartphone. We also have the mechanical retractable selfie cameras, like the one on the
OnePlus 7 Pro
and
Oppo Reno
. While they are certainly a cool party trick, we all know they are not optimal — they demand room inside the phone, making it bigger, clunkier, and adding another mechanical part that's prone to failing at some point.
The next step in removing the notch is, supposedly, the invention of under-the-screen selfie cameras. By hiding the sensor under actual OLED pixels that can turn on and off as they are needed, manufacturers could actually get that all-screen look with no cutouts, mechanical trays, or other bells and whistles. Of course, that's going to be hard, as that sensor needs a lot of light to reach it in order to produce good photos, and having that light pass through a layer of pixels and a touch digitizer is a challenge in itself.
LG's latest patents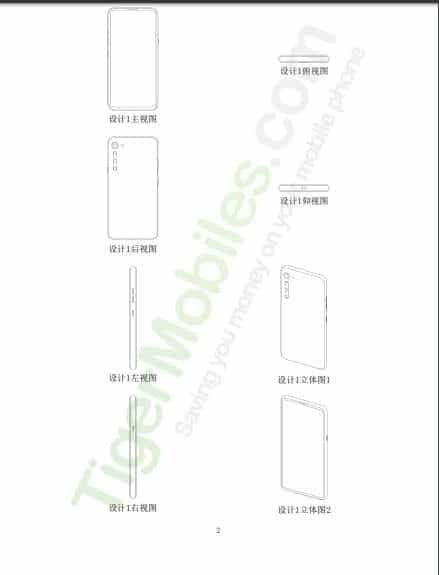 It seems LG is ready to throw its hat in the ring, though. We
just heard
that the company might be going the road of "punch-hole" with its next phone. But further down the line, it might quickly evolve its design. A recently-uncovered smartphone patent (
posted by TigerMobiles
) that has been granted to the company shows a device with an uniform thin bezel all around its screen. There's no hole for a selfie camera to speak of but that doesn't seem to be due to lack of detail in the drawings — you can clearly see that the earpiece, the hardware buttons, the rear cameras, and even the LED flash have clearly been drawn. So, the only conclusion we can reach here is that the selfie camera is "hidden" somewhere.
But where? Inspecting the frames of the illustrated phones, we see no indication of a mechanical tray of any sort. Again, all other components are shown, so we have to assume there's no tray.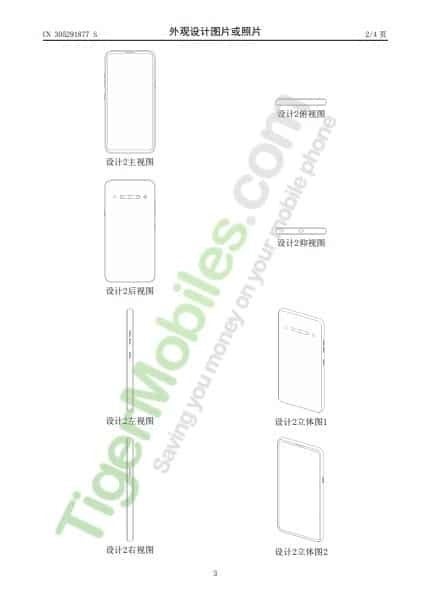 This means that LG is probably, possibly, we-don't-know-for-sure-but-maybe working on an under-the-screen camera. Assuming this is not a big reach by any means, since
Chinese manufacturers
have already made live demonstrations of the tech on their own prototype units.
You'll also notice that the patent shows three different designs for the phone's back. On the first one, we have a square camera module, a-la
Huawei Mate 20
. The second one has the cameras in a horizontal line on the back, which is very much LG's style. And on the third, they are offset to the side of the device, in a vertical line, which seems to be trendy right now, with the
Huawei P30
and the
leaked Note 10 designs
having their lenses placed in such a fashion.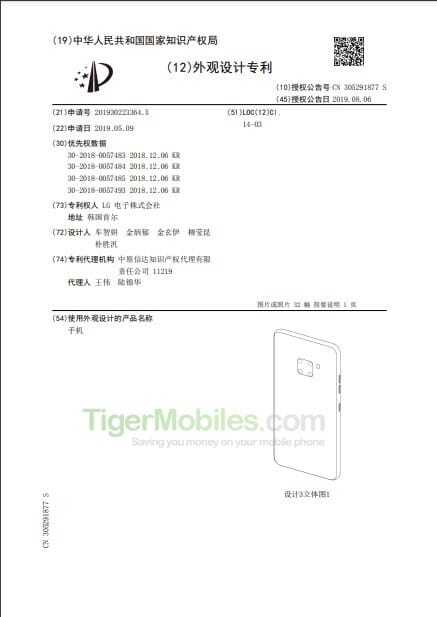 Is that a ToF Camera back there?
Here's another interesting point — all shown models have a total of 5 "holes" around the camera modules. We have to assume that three of them are for a regular wide-angle, an ultra-wide-angle, and a telephoto camera. Then, we surely have one cutout for the LED flash. What's the last hole for then? That's possibly a
ToF Camera
— a term that has been getting hotter and hotter over the past year. Basically, it's a piece of hardware that lets the phone detect and scan objects in 3D space super-accurately. In other words, better AR, and much better Portrait Mode implementation, with accurate edge detection and object placement.
We have no idea what this phone is meant to be. Possibly the LG G9? Or the 2020 version of the LG V series? The latter sounds more probable, but we'll see. After all, it's just a patent — it might not reach the production lines any time soon.