Confidential Apple document may have confirmed one iPhone 15 Ultra rumor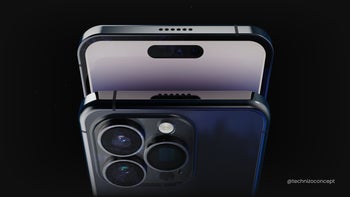 Only a handful of
current top smartphones
, including the Samsung Galaxy S22 Ultra and S22 Plus, have WiFi 6E compatibility, whereas most others, such as the iPhone 14 Pro Max, are still stuck on WiFi 6.
WiFi 6E is a wireless standard that expands on WiFi 6 by adding the 6GHz band, allowing more devices to connect to available Wi-Fi channels without leading to spectrum congestion. In simple words, the standard makes more bandwidth available which translates to speedier, more reliable access and lower latency.
You will need a compatible router though, but that shouldn't be a problem as various companies including Asus, Linksys, and Netgear sell Wi-Fi 6E devices.
MacRumors
reports that leaker
Unknownz21
has shared an internal document that includes diagrams of the ‌iPhone 15‌'s antenna setup. The diagram refers to the iPhone 15 Pro and Ultra as D8x, whereas the standard and the Plus models are called D3y.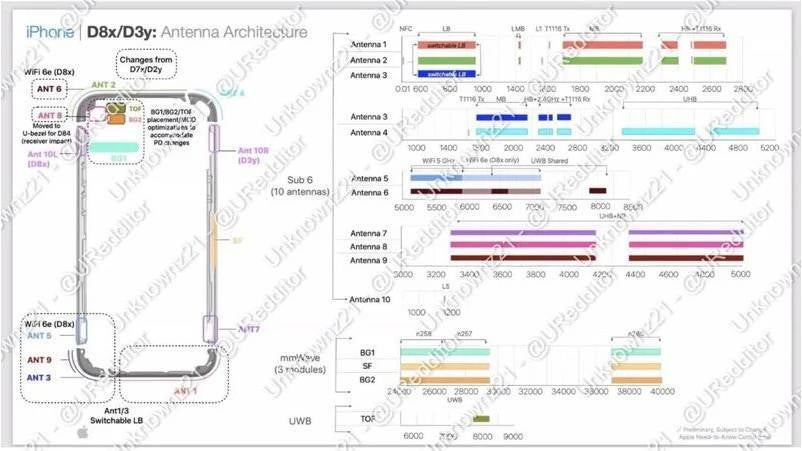 Leaked diagram shows iPhone 15‌'s antenna architecture
The image suggests that only the premium models will support Wi-Fi 6E, whereas the iPhone 15 and 15 Plus will continue using Wi-Fi 6.
The document also shows the antenna design changes between the iPhone 15 Pro and the iPhone 14 Pro, which is labeled as D7x. In case you are wondering, D2y is the codename for the iPhone 14 and 14 Plus.
Some Apple products, including the latest iPad Pro and MacBook Pro, already support Wi-Fi 6E.
MacRumors
points out that this would be the first time Apple would be restricting a new WiFi standard to pricier iPhones.
This ties into its strategy of limiting premium features to high-end models. Rumors indicate that only the iPhone 15 Ultra and Pro will have the A17 chip, faster USB-C speeds, 120Hz screen, more base RAM, titanium build, and solid-state buttons. On top of that, only the Ultra is expected to come with a 12MP periscope camera with 6x zoom.