The number of iPhones that the American middle class can afford is in steady decline
31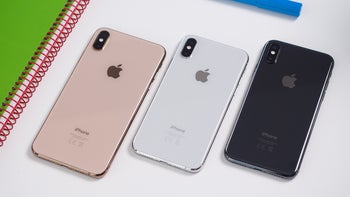 We've been hearing about the middle-class squeeze since the times of the Great Depression, but it's been the Great Recession of 2008 that truly put these claims front and center. News about the "working poor," or people with way above average incomes that barely pay the mortgage, the healthcare charges, and the kids' education, are constantly popping up, too.
There is one chart to put things in perspective, though, and it's the number of iPhones that Americans could afford with their median household income. We kid, but Apple, and the iPhone in particular, have become somewhat of a yardstick, so it's no coincidence that when the US does some foreign policy blunder, people in the affected countries start
smashing
or
burning iPhones
as a sign of protest.
Well, Americans themselves have something to say when it comes to the price of iPhones. It has been steadily rising to the point that in 2018, the number of top-shelf iPhones that the member of an average household could afford is now half of what it was when the OG iPhone hit the shelves at AT&T - just 17, compared to 33 in 2007.
Granted, this is not really an apples-to-apples comparison, as the top
iPhone XS Max
now comes with 512GB storage, and so on and so forth, but its price still remains very high, and the median household income didn't really keep up in said period.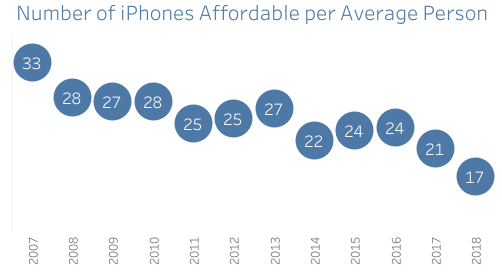 Recommended Stories