Oppo R13 leak: check out this all-black iPhone X... errrr Android phone!
30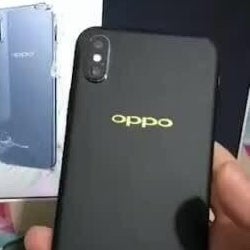 If you've been a member of the smartphone fandom for a while now, you've probably heard of Oppo. The company doesn't have much of a presence on western markets, but it's huge in China. And, despite the phone we are about to write on in this article, Oppo has also notably made attempts at making unique, innovative designs — like the
Oppo N3
with its unique swivel camera, or the
Oppo R5
, which was "the world's thinnest smartphone" at the time of its launch. Oh, it's also
the parent company
of the OnePlus "flagship killing" brand that everyone is talking about nowadays.
Innovative concepts aside, Oppo has also dabbled in "copy designs", making one or two phones that are all too similar to the iPhone. We'd like to stress that it is hardly the worst offender when it comes to this, but check out the following design:
This is, allegedly, a leaked Oppo R13 and, as you can see, it looks... strikingly similar to something we know, notch and virtual "home" bar included!
We have to admit, though, the all-black paintjob with a neon green Oppo logo on the back looks really cool. Now, whether or not you are going to be able to buy it in the west — we wager on "no". But 3rd party eshop retailers will surely be able to grab a hold of it and will sell internationaly. If the phone happens to cover the bands that your carrier works over — you'd have a chance there.