iPhone OS shows largest market share growth in 2009
4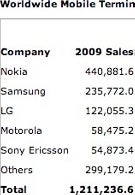 Research firm Gartner has computed smartphone sales for 2009 and has come up with some interesting information. The iPhone OS had the largest gain in market share last year with a 6.2% increase to a 14.4% slice of the world market. The leader is still the Symbian OS, but the numbers show that the operating system went from owning more than half of the market in 2008 to a 46.9% share last year. As for actual phone sales worldwide, Nokia still is on top despite losing 2.2% in market share to 36.4% Samsung picked up 3.2% to own a 19.5% share, good enough for second place. LG and Motorola swapped positions with the former firm gaining 1.7% to 10.1% and third place, while the latter lost 3.9% to 4.8%. Ronding out the top 5 is Sony Ericsson. The joint venture lost 3.1% in share to 4.5%.
Gartner is predicting that Nokia will gain market share in 2010 thanks to some exciting new models including the already released N900. The Maemo powered device has one of the best browsers on a smartphone with full flash support. The research firm expects iPhone's market share to expand as more networks get to sell the handset, and the exciting Windows Phone 7 OS should help Microsoft increase share. Android also should be primed to grow market share this year. As for the manufacturers, Sony Ericsson could lose more ground in 2010 if the Xperia X10 turns out to be less than what has been promised.
As for the entire market in 2009, cellphone sales to end users worldwide declined .9% from 2008. In the fourth quarter of 2009, sales rose 8.3% from the same period in the previous year. Smartphone sales led the way with a 41.1% gain in the last three months of last year versus the last three months of 2008. For the entire year, smartphone sales were up 23.8% from the prior year.
Apple iPhone 3GS Specifications
|
Review
Nokia N900 Specifications
|
Review
Sony Ericsson Xperia X10 Specifications
|
Preview
source:
Gartner
via
simbasics