iPhone 7 latest: 4K video capture at 60 FPS, rubber-sealed SIM tray for waterproofing & more
86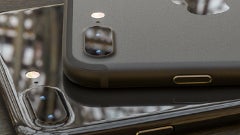 The
iPhone 7
/
7 Plus
rumor mill has been running at full throttle today, as one might expect a mere two days prior to
the big reveal
. An Apple-facing Vietnamese blog claims to have handled a couple of 4.7-inch iPhone 7 units ahead of the announcement, and wades into the debate with a few statements on the handset's apparent features. While we must take this report with some skepticism — particularly given the lack of any video or photographic evidence of said devices — it's nonetheless worth assessing at such a late stage.
Outer design tweaks
The reporter notes of having some hands-on experience with the 128 GB iPhone 7 (not Plus) in both silver and black. The latter seems to be the
matte / 'Dark Black' model
set to replace the current Space Gray. As we've learned already, it will probably be accompanied by a further,
glossy 'Piano Black' option as well
. According to this tidbit, the silver model's rear Apple logo will be somewhat shiny, while the logo of the matte version will be more in-keeping with the rest of the device's outer profile.

The volume buttons may also have been subtly altered. With the iPhone 6s, there's a slight indentation as seen above, where the volume keys are located. This is concave will not exist with the iPhone 7, says the report; the buttons will simply pop out from through their respective holes without affecting the shape of the chassis.
Waterproofing
We've heard that the forthcoming iPhones will finally see some kind of
protection against moisture
, and this leak thankfully does not refute the claim. Quite the opposite — the SIM tray will apparently be sealed with rubber in order to shore up defense against the elements. With a number of major smartphones inclusive of such protection as standard, it was only a matter of time before Apple followed suit. That time appears to be now.
4K video capture @ 60 fps
Saving potentially the most exciting feature until last, the report notes that Apple's iPhone 7 could be the first to sport 4K video capture at 60 fps. If so, it would be the first smartphone to offer such capability, and would constitute a welcome bump on the 30 fps limit of the iPhone 6s' 4K abilities.
The new iPhones are widely expected to offer 32, 128 and 256 GB capacities, which is a lot when it comes to apps, games and music. But if 4K video at 60 fps is indeed a Thing, those looking to make the most of these abilities will need all the real estate they can get.
The report also notes of the new touch-based home button. It will not move in and out as has traditionally been the case, but will provide haptic feedback to give the illusion of a moving part. Apple's recent fleet of MacBook trackpads have this Force Touch feature baked in, and now the home buttons of the new iPhones look poised to do likewise.