Leaked iPhone 7 allegedly shows its shell in Rose Gold, Silver, and Dark Gray
38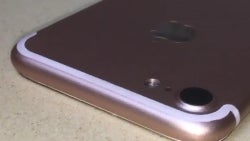 Another day, another outpour of Apple iPhone 7 leaks. In what has to be the clearest video of the purported Apple beast that's surfaced yet, we get to see the handset's shiny metallic back in Rose Gold, Silver, and Dark Gray.
Features familiar from previous leaked material, such as the top and bottom placement for the plastic antenna bands, the bigger camera hump, the thinner profile, and dual speaker cutouts (in absence of the headphone jack).
The look looks credible, considering the natural camera movement and details in the background that resemble factory facilities. Check out the photos and video below and let us know what you think!
ALSO READ