iPhone 5: 10 very likely new features
56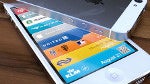 The new iPhone is right around the corner now.
Apple has officially confirmed its September 12 event
, so it's pretty much inevitable that by the end of the week, we'll know everything about the iPhone 5 and more. But one thing has been very different this year - the rumors we're hearing are quite consistent. This matters, because last year, for example, it was the usual amount of random rumors such as "bigger screen", "LTE", "widgets", a bunch of fake mock-ups...
Well, this year, we're pretty much seeing the same prototype leak over and over again, which kind of makes us think that Apple's usually leak-proof security may not be as tight these days. And in case this isn't just part of a secret plan for Apple — to continuously leak this prototype, so that everyone thinks that this will be the iPhone 5, and then surprisingly unveil a completely different device — we think this will be the first year ever when we have such accurate information prior to the iPhone launch.
With that said, let's go through the new features that are expected to be part of the new iPhone. Check them out by cycling through the gallery below!