iOS's share of the mobile web is much bigger than that of Android
21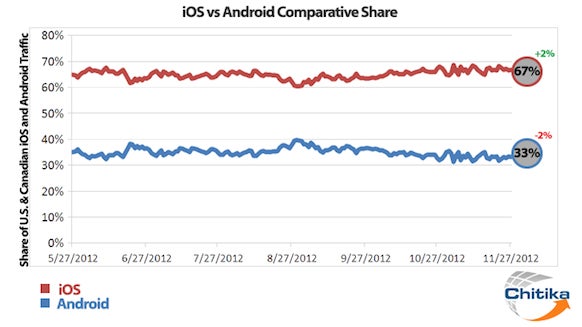 Research firm Chitika has released a new interesting study for us mobile freaks. According to this report, Android's share of the mobile web is much lower than that of iOS, despite the overwhelming market share of the former.
The research covers the last 6 months, and finds out that since May, iOS has added 2% to its mobile web browsing share in the U.S. and Canada, resulting in a total of 67%. Meanwhile, Android devices are currently responsible for just 33%. Chitika notes that the highest point for Android thus far was in August (40%), when the Galaxy S III was all the rage. However, the release of the iPhone 5 and new iPad models have managed to tip the scales in iOS's favor once again.
According to the research company, the significantly higher numbers for Apple are due to the strong sales of its tablets - an area where Android is still trying to catch up.
via:
MacRumors