iOS 9 Photos app has a Google Photos-like gesture for selecting multiple photos
20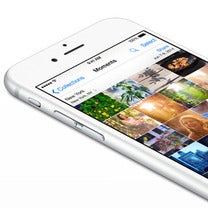 We just installed the iOS 9 beta on our iPhone and we've been playing for it for a while now. We've been testing the overhauled Spotlight search, we've been checking out the new
Notes
app, and we've been enjoying the
improved keyboard experience
. And the more we dig through the latest iOS release, the more new
minor yet cool
features we come across.
One of these lesser-known iOS 9 features is a new gesture in Photos allowing us to select multiple images in one go. To use it, you hit the "Select" button in the upper right-hand corner. Then you tap on a picture to select it and swipe sideways. The images you run your finger over will be marked. It is important to swipe left or right as you perform the action. If you swipe diagonally or straight down, the page is going to scroll and nothing will be highlighted. You may also use the new gesture to de-select a series of images.
Now, if this new photo selection gesture in iOS 9 seems familiar, rest assured that your brain is not playing tricks on you. Images in
the new Google Photos
are highlighted in an identical fashion – by swiping over the thumbnails of images you wish to select. Was Apple inspired by Google's solution, or was it developing the same image selection method all along? We're not entirely sure. What truly matters, however, is that both users of iOS and Google Photos will be enjoying a richer experience when handling their images.
That's just one of the numerous great features iOS 9 brings to iPhones and iPads. For a complete rundown, take a look at our list of
what's new in iOS 9.