iOS' Notes app is about to become a whole lot more useful
19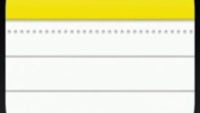 Among the new features and updates announced by Apple at today's WWDC event, Notes was one of the apps to get some special attention. Used regularly by "about half" the iPhone users worldwide, the app is definitely in need of some facelifting, and Apple has seemingly acknowledged that.
Notes will finally receive a toolbar, reminiscent of the one found on third party apps like Evernote. It will allow the user to quickly access formatting, create checklists, or attach images. A fourth option allows for doodling, which, if combined with an active stylus, we imagine would become a favorite among people who actually like to jot down their notes (an allure factor of Samsung's own S Note).
Adding links to Notes will also become easier, and prettier looking, as Safari will be able to send a website directly to your note (via Open in...), which will result in a pretty link, with a thumbnail, appearing in one's note. The separate notes will get their own thumbnails, exported from the attached pictures or links to make them easier to find.