iOS 7 adoption slows, but hits 78%
49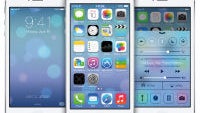 As is fairly typical for an iOS system update, iOS 7 saw extremely fast adoption rates. After just about one month, iOS 7 was found on
64%
of Apple devices; and, unofficial stats from Chitika showed that at least in North America, that number was up to
about 74%
earlier this month. Now, Apple's official stats are showing that about 78% of users have made the update.
The official number comes from Apple's distribution chart that can be found on the developer page for the App Store. The data was pulled over a one week period which ended on December 29th and this is data reflects the exact same thing as the Android distribution numbers that we see each month - users who accessed the App Store for that time period. Apple has used this to put down Android in the past, claiming that the numbers were cherry-picked to show the best possible view. Of course, the truth is that developers don't much care about what users are running on their devices if they never download any apps.
78% is a solid number going into the new year, although it is only up 2% from the last Apple checkpoint from 2 weeks ago, so user adoption is slowing down. It will undoubtedly hit 80%, but it will be interesting to see how far it climbs beyond that. We've already seen that Apple users, like most users, don't bother too much with
incremental updates
, so we may be getting to the apathy line that exists for all software updates.