iOS 7 now running on 74% of North American Apple devices
49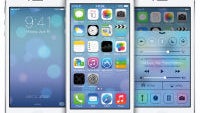 iOS 7 has had a very split reception - some people love it, and some people hate it. Of course, it doesn't look like that is stopping anyone from installing the update. Last year, we saw quite a few users who seemed to
delay updating
to iOS 6 until Google Maps was released into the App Store; but, this year Apple devices in North America at least are mostly running iOS 7.
In mid-October, when Apple was announcing the new iPad Air and the iPad mini with Retina display, Tim Cook let us know that in just over one month iOS 7 had been installed on
64%
of iOS devices had been updated. We assume that those numbers were worldwide, but we can't say for sure because Cook never specified. Now, Chitika is saying that in the U.S. and Canada, iOS 7 has been installed on 74% of iOS devices, while iOS 6 still makes up 22% of the ecosystem.
According to Chitika, it took iOS 6 six months to get to 83% penetration. Chitika studied "tens of millions" ad impressions on iOS devices in North America between October 25 and November 18 to get its statistics on iOS 7.