iOS 5 Notification Center cracked open to third party widgets
27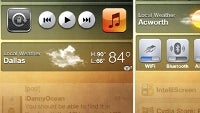 If we thought we could only run Apple's chosen weather and stocks widgets in our iOS 5 Notification Center area, the jailbreaking community was quick to prove us wrong.
Apple's newest mobile OS version iOS 5, which is still in a beta stage, has been jailbroken,
tinkered with
, and
examined to pieces
for the few short days it is in public. Moreover, iOS 5 already has its own set of
customized widgets
, which bring additional functionalities and altered looks that dispose of that linen background Apple placed in its Notification Center for some reason.
That reminds us a lot about the early days of Google's Android OS, when coders were hard at work ironing out the kinks, and also of Android's different manufacturers' overlays and custom ROMs that keep on piling functionality on rooted devices.
UISettings and Widget Task
There is a good roundup of these new Notification Center enhancements and widgets for jailbroken devices with iOS 5 beta and here are screenshots from some of them. First off, we get new widgets. There is
UISettings
, which inserts connectivity toggles in the pulldown list of notfications, then
Widget Task
, which will display the multitasking menu there.
In development are also
Spring Prefs
, which displays system information in the Notification Center, as well as
Music Center
, which shows the current song right there too.
There are a couple of beautification efforts, too, meant to demonstrate that the
Notification Center can be themed
, if you want to escape from the default linen background of Apple's design team. These range from glossy pulldown menu, to pure black background, as well as one with transparent effects, more akin to Apple's usual design concepts.
We don't know what is more surprising - the fact that these Notification Center enhancements were created for an iOS 5 beta, or the speed they were cooked with for Apple's newest mobile OS version that has barely been out. It's a welcome developed nonetheless.
Recommended Stories