iOS 5 to integrate Facebook, Flickr, LinkedIn and Myspace as well
10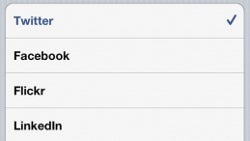 Apple's WWDC might not have brought a brand-new iPhone, but rather focused on software and unveiled the next major release of iOS 5 with
deeper integration for Twitter services
. But is Twitter the only service that comes pre-baked in the mobile platform? An anonymous developer found that other popular services, namely
Facebook, Flickr, LinkedIn and MySpace
, are also to be integrated into the system. The features actually weren't even hidden – they all appear in the developer's beta.
So in addition to the standard information about a person, you get to see links of their various web accounts, which is pretty neat. Tapping on the account then takes you to Safari and the person's profile. The developer also mentioned that some of those service still seem to be buggy, but the product is still in beta after all, so all hopes remain reserved for a stable final release. It's not clear however whether those other accounts will get
as deep
of an integration as Twitter, which will even pull contacts from the microblog to your phone application for once.
Other platforms like Microsoft's
Windows Phone and Google's Android
also come with wider support for social networks, but for Microsoft it mostly resolves around Facebook, while Google has had some disagreements with the social network over data portability. Social networking integration might finally bring all your friends to one place, but at the same time over complicating the contacts application could also be an issue. Do you personally feel the need for deeper integration of social networking services into your phone experience? Feel free to voice your opinions in the comments below!
Recommended Stories