Our best look at the Galaxy S23 before release!
3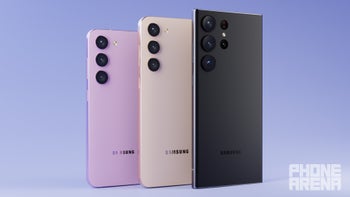 *PhoneArena renders based on latest leaks
Well, folks, it is now 2023 and we fully expect Samsung to kick off the new year with its next generation of Galaxy S flagships, as it has done so many times before. According to the latest information, we should expect the
Galaxy S23
,
Galaxy S23+
, and
Galaxy S23 Ultra
reveal event to take place in early February, with the phones shipping a couple of weeks after that.
As we are so close to release, we have — naturally — accumulated a ton of leaks, which more or less tell us what to expect from the Galaxy S23 series. We can even imagine how the three phones are going to look, especially now since their supposed
official colors
have also been leaked.
So, we made a series of renders, showcasing how the trio of Galaxy S23 phones are going to look — we aimed for accuracy in size, design, and colors. While the final products may end up being slightly different, we have faith that we got them pretty, pretty close. Hey, if we are wrong on a couple of details — we don't mind surprises!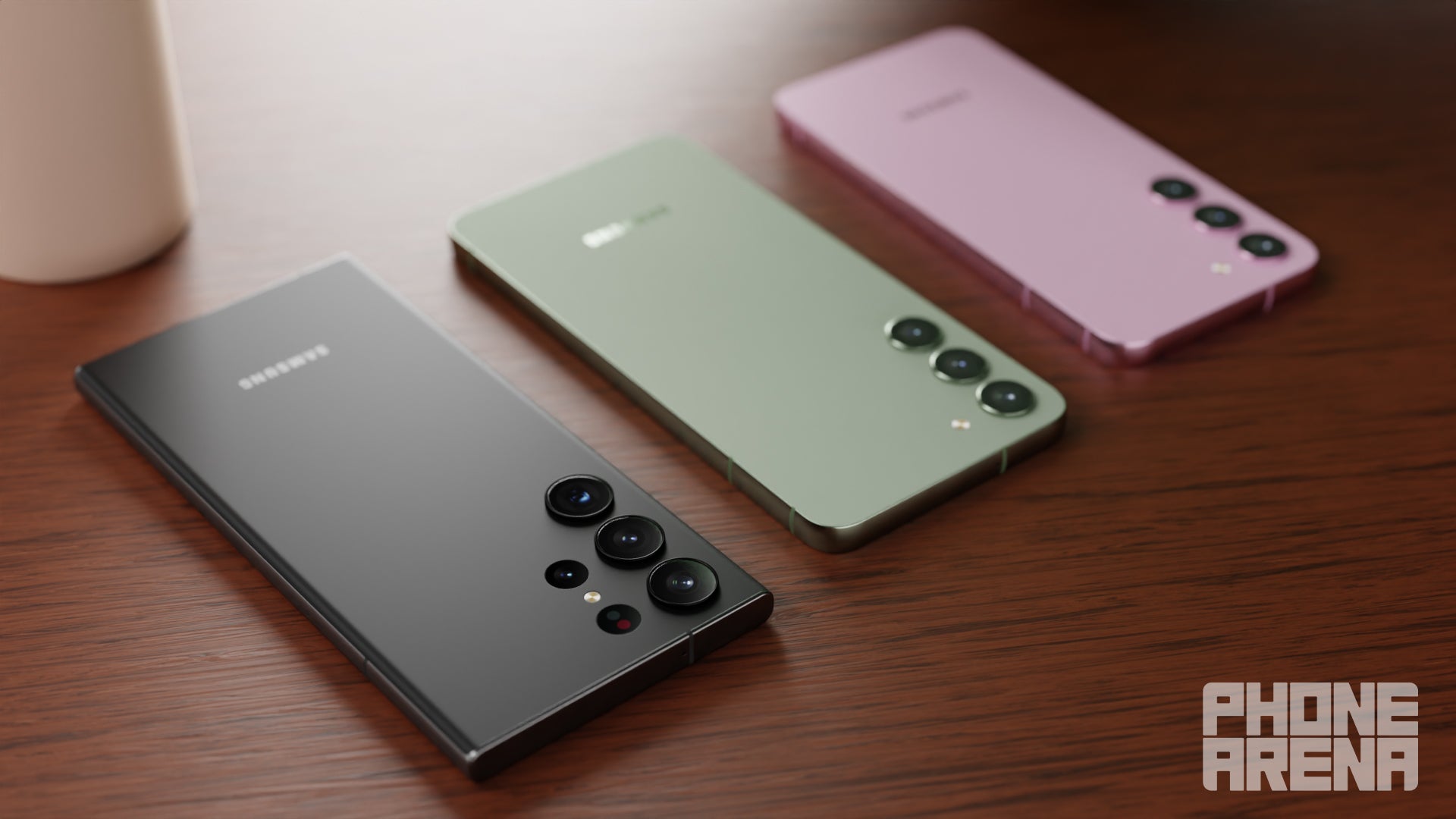 Galaxy S23 Ultra, Galaxy S23+, Galaxy S23 as imagined based on leaks (Image credit - PhoneArena)
As always, we expect a trio of differently-sized phones — the Galaxy S23, Galaxy S23+, and Galaxy S23 Ultra. The former two will look very similar, with their flat sides and flat screens, only differing in size. The Ultra is to have the curved screen into the slightly arched frame, with an S Pen slotted into its bottom, and an upgraded camera system.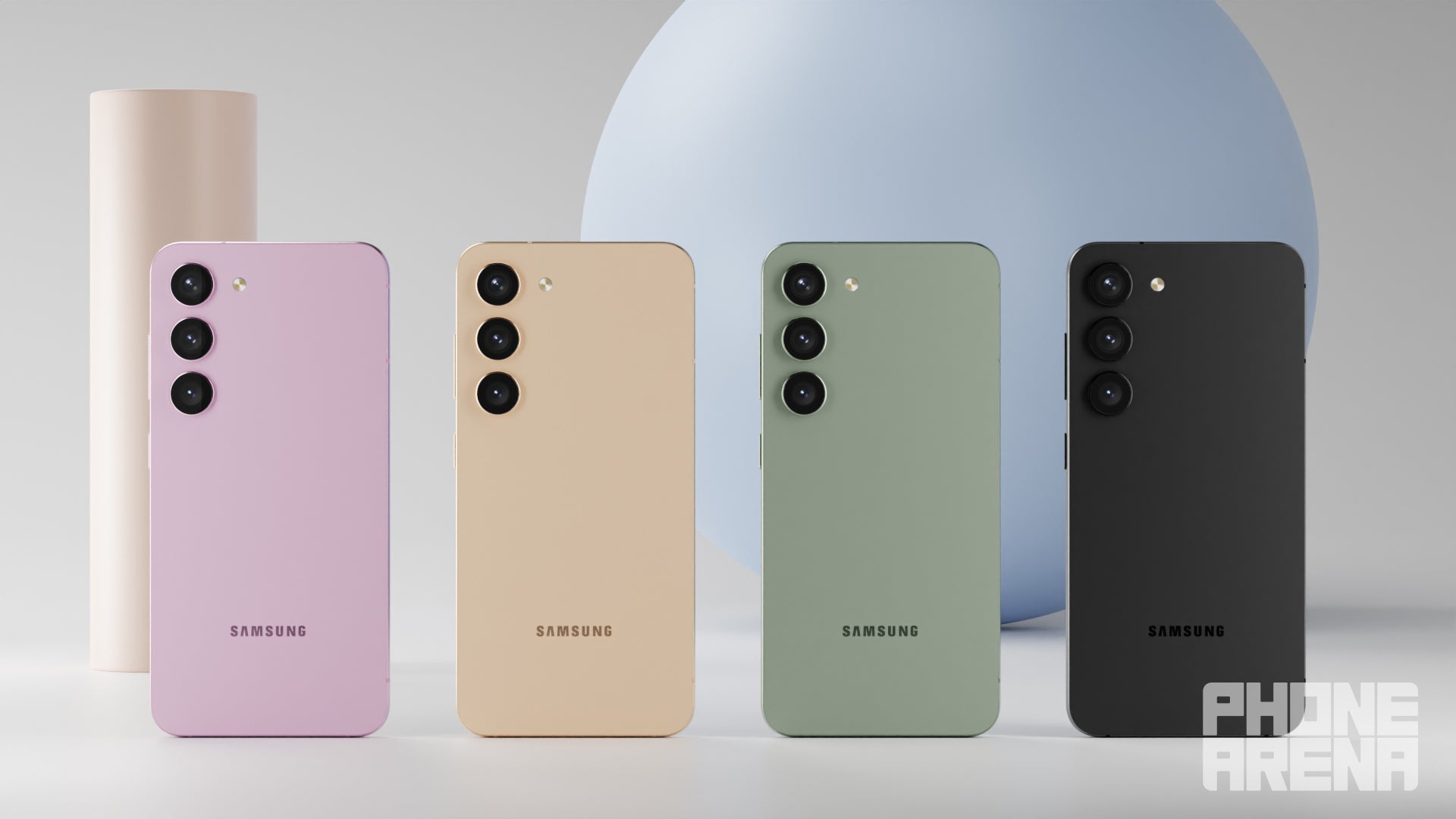 Galaxy S23 expected colors (Image credit - PhoneArena)
All leaks point to the basic colors for the series being pink, beige, green, and black. It's possible that the Ultra may get an exclusive hue of its own, and it's nearly certain that you will have access to a couple special paintjobs if you order from Samsung's own store.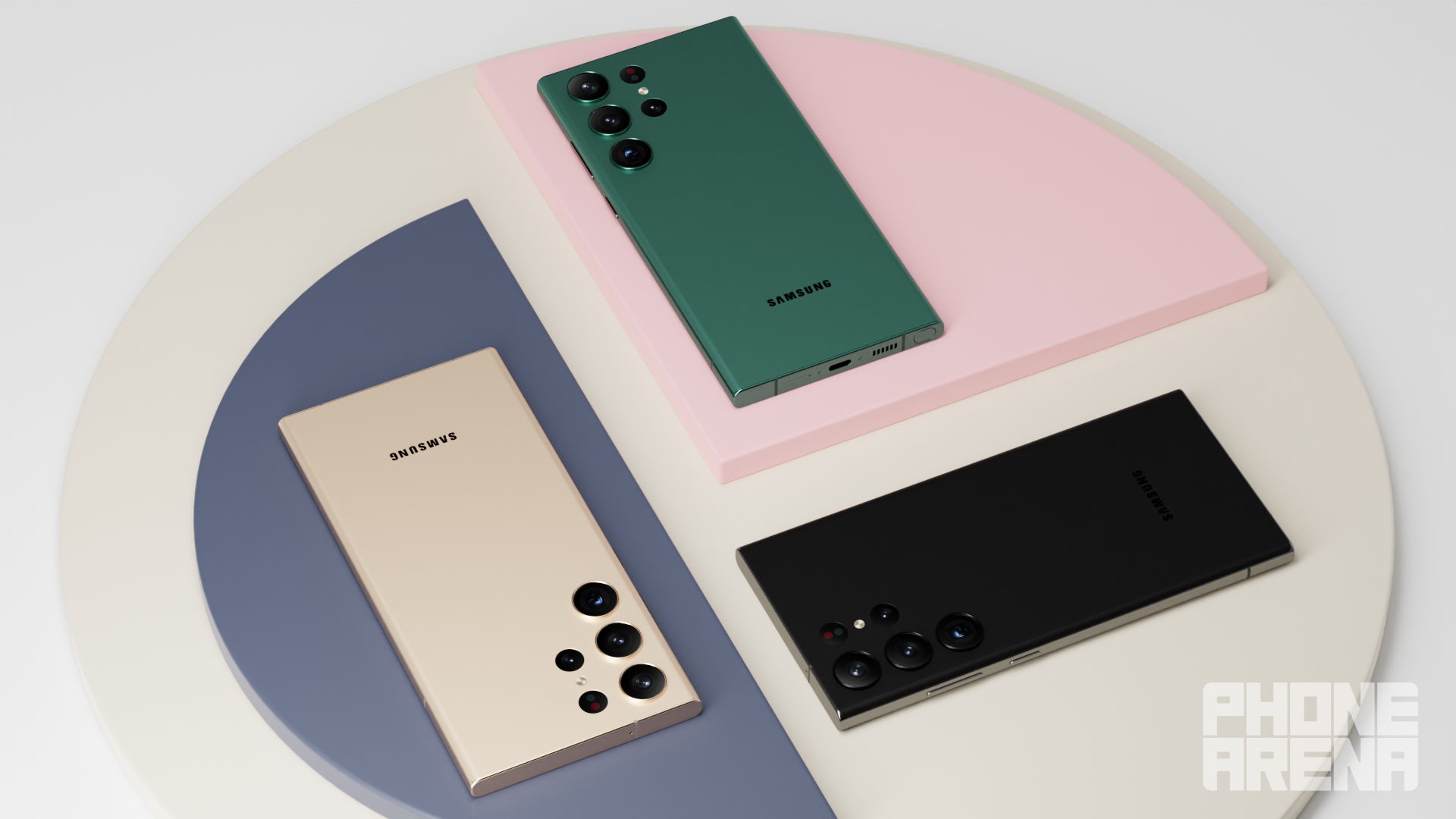 Galaxy S23 Ultra in three variants (Image credit - PhoneArena)
It appears that the Galaxy S23 Ultra will continue down the path of looking like a Galaxy Note 20 Ultra — just slightly evolved. We can't say we mind it — this is peak Samsung design, with beautiful straight lines and seamless transitions where screen meets body.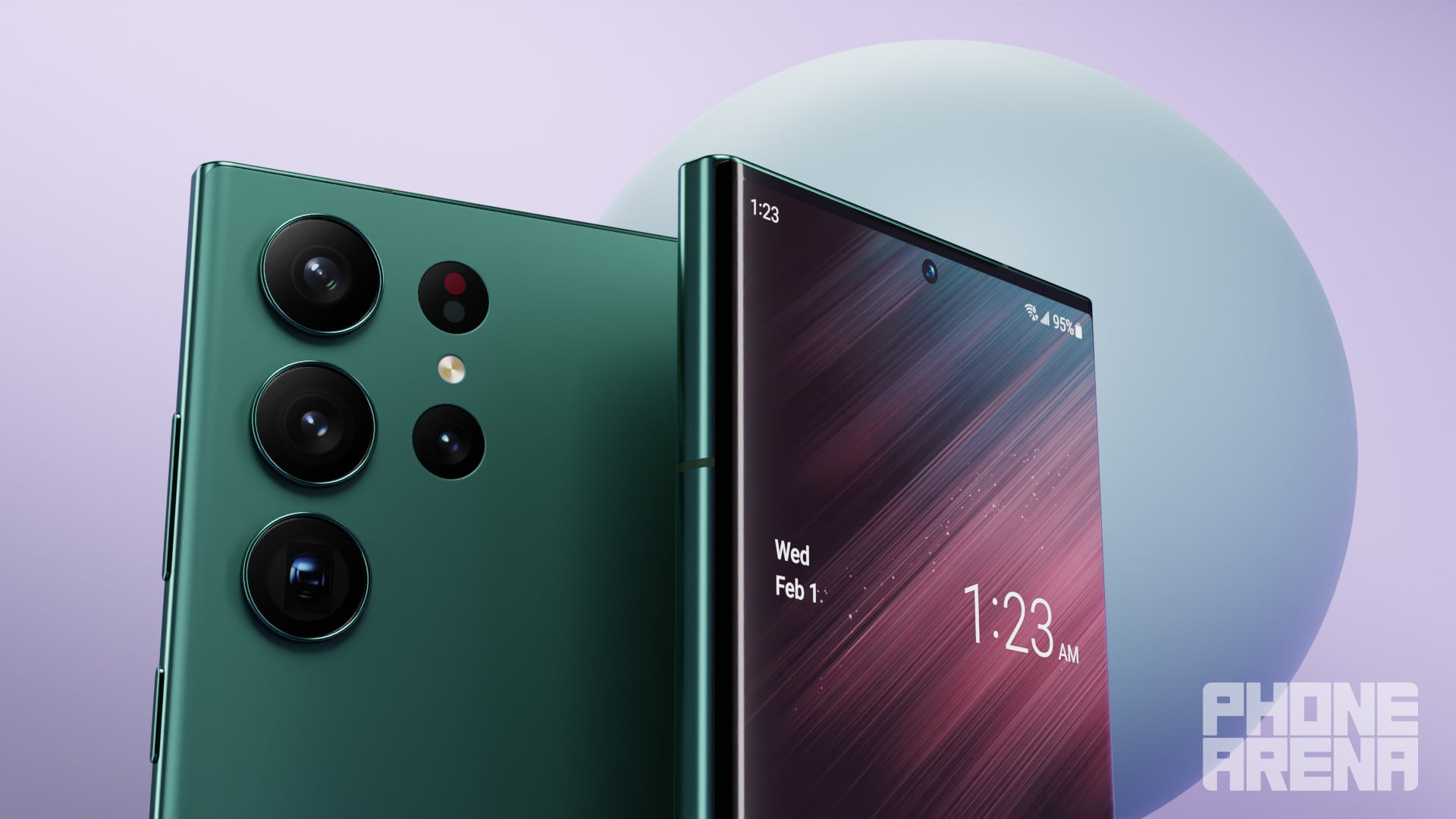 Galaxy S23 Ultra curved screen (Image credit - PhoneArena)
Samsung has slowly been moving further and further away from the arched screen (Edge design), since the community doesn't seem to enjoy it. It's hard to fit a screen protector over a curved screen, and ghost touches are often an occurance. Right now, only the Galaxy S Ultra series have a curve at the border of the screen, and it's a very abrupt one, leaving most of the screen real estate flat, so you can use that S Pen and enjoy content without the Edge getting in the way.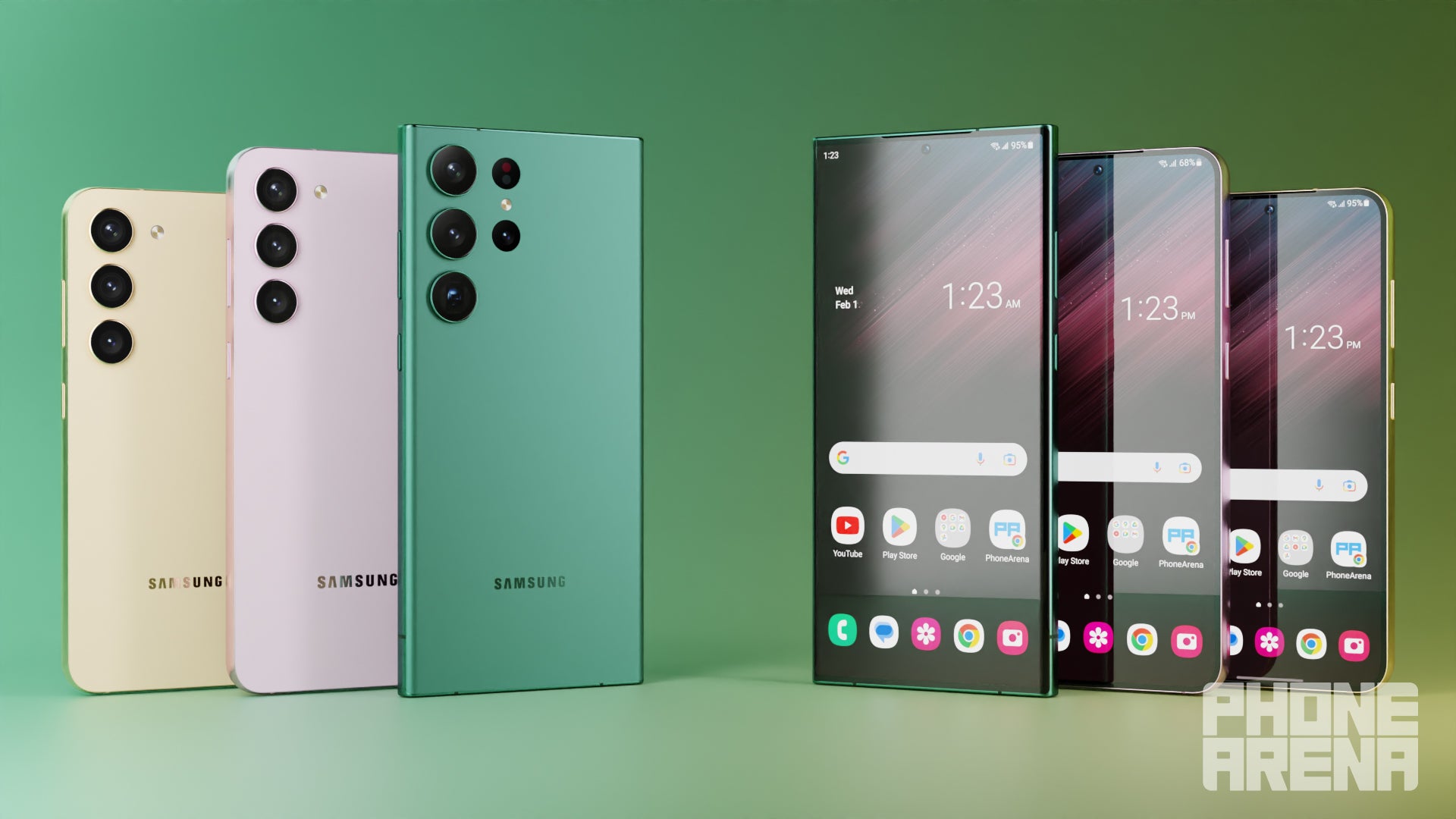 Galaxy S23 size differences (Image credit - PhoneArena)
Samsung tries to have something for everyone — the Galaxy S series share the same DNA but launch in three different variants. Following the logic of previous releases, this is what we expect for the S23 phones — the base Galaxy S23 will be the smallest, offering the same performance as its siblings and same camera as the Galaxy S23+. Its more pocketable size and slightly more modest price-tag will appeal to most. The Galaxy S23+ will be mostly the same phone, but with a huge screen experience — it's for those that want a big phone but don't care for (or wish to pay for) the bells and whistles of the Ultra. And the Galaxy S23 Ultra, true to its namesake, will bring everything that Samsung is able to cram into a consumer device right now. S Pen, crazy cameras, some fancy cooling for extended performance.


All Galaxy S23 renders:
While Samsung hasn't yet announced the official event for the S23 series, leaks state that it will be held on the 1st of February, and the Galaxy S23 will ship on the 17th of February. We expect the usual camera upgrades but also a huge change for international models — reportedly, everyone will get the brand new Snapdragon 8 Gen 2 processor, instead of Samsung shipping some regional models with the homemade Exynos chips.
Learn more about the Galaxy S23 here