Galaxy X? Galaxy F? How about Galaxy Fold as a name for Samsung's first foldable phone?
1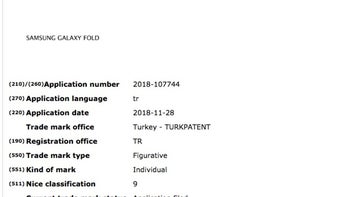 What's in a name? Unless we're talking about a particularly confusing or convoluted smartphone label, like
LG V30S ThinQ
or
Moto G5S Plus
, it's probably not in the top ten factors to consider before making a new purchase.

Of course, there's one more situation where a brand can become integral to the evolution of an entire market. When trying to pioneer a new product category, it's important to adopt a unique, easy-to-remember name that also makes its key strength clear without having to even look at the actual device.
Meanwhile,
Galaxy F
simply doesn't sound special enough, but Galaxy Flex and Galaxy Fold are much stronger candidates. They're somewhat predictable, but sometimes, that's better than thinking outside the box and coming up with an ill-advised name like Galaxy X.

A trademark application of this sort simply means the company is considering using the name... for something at some point. A Samsung Galaxy Fold may never see daylight or it could be released someday with no connection to the mobile industry.

The 9 Nice class number under which the trademark was filed earlier this week encompasses smartphones, tablets, wearable devices, laptops, and other computers, so let's not get ahead of ourselves just yet.