Huawei likes to flex as well, trademarks names similar to Samsung's for its foldable phone
6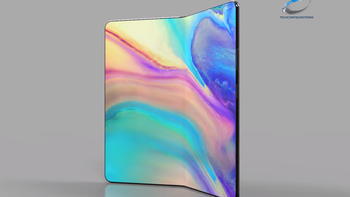 A rather optimistic concept rendering of Huawei's foldable smartphone, made by technoconfigurations.com
Foldable phones
, 5G and
displays with holes in them
, it seems that's what 2019 will be all about when it comes to smartphones. Naturally, a steady stream of information will be accompanying each of those. Now it's time for the latest tidbit about the upcoming
smartphone with flexible display, Huawei edition
.
Dug up by AndroidHeadlines
, are documents that contain potential names for the futuristic device coming from the Chinese manufacturer. The trademark applications filed by Huawei contain four names that leave little doubt about what phone they're meant for: Mate F, Mate Flex, Mate Flexi and Mate Fold. If you were expecting something more grandiose, your disappointment is understandable.
Besides the fact that Huawei wants it to be perfectly clear what the main feature of the device is, the names tell us that the Flexi will be part of the Mate line, which should also surprise no one. The Mate phones, after all, are the most premium ones Huawei offers.
If you're familiar with the folding smartphone scene, you have surely noticed that the four names are awfully close to Galaxy F, the expected name for
Samsung's own foldable phone
. To be fair to both brands, there aren't that many words that describe the act of bending a shape until one edge touches another, so name options are limited to begin with, unless you go for something completely unrelated.
That, of course, is also a possibility, since companies often trademark things just in case. However, it's most likely that some variation of "flex" or "fold" will be part of the name, when the phone is finally announced. The announcement itself is expected early next year, around February-March, unless there's a delay, which is not uncommon when it comes to foldable phones.