Don't forget to set up Find My iPhone if you ever want to help bust dangerous criminals
5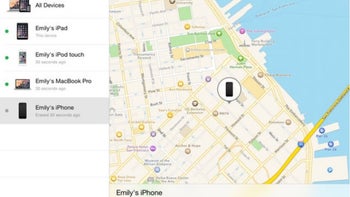 We all know about the existence of apps like
Find My iPhone
and Google's
Find My Device
for Android, but sometimes, we tend to forget just how incredibly important it is to actually remember to install or enable them shortly after setting up a new smartphone.

Not only will you then be able to easily locate a misplaced mobile device, but you may also see your CSI dream come true. That was recently the case for a 14-year-old girl, who played a crucial role in the arrest of a hit-and-run suspect with the help of the newly enabled "Find My iPhone" service on her handset.

Said iPhone was left behind by the teenager in a car stolen by the 32-year-old man believed to have caused a number of crashes, including one ending in the injury of one person and three damaged vehicles.
The girl, whose name is kept under wraps by
Fox 11 News
and
Geek.com
to protect her identity, managed to escape the truck stolen by the presumably intoxicated suspect as he was driving away. She then remembered she had installed the vital device-locating app the very previous day, which is a pretty crazy coincidence.

The authorities were immediately informed about this happy coincidence, and using a friend's phone, the 14-year-old "investigator" tracked the stolen car, which still contained both the teenager's mobile device and Jonathon Harper, who was ultimately apprehended by the Outagamie County Sheriff's Office in Wisconsin about eight miles away from where witnesses last placed him.

Basically, without the girl's excellent detective work and the Find My iPhone app, catching the suspect would have been far more difficult, as the local police merely had a "general area of where he fled." In the words of Staff Sergeant Ryan Carpenter, the search operation would have quickly turned into a "needle in a haystack" situation.

At the end of the day, while these particular circumstances are certainly rare, it's important to put safety first. A little care never hurt anyone, occasionally turning normal people into real-life superheroes.