Best Samsung Galaxy S21 cases
0
We may earn a commission if you make a purchase from the links on this page.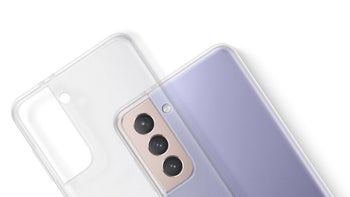 The
Galaxy Unpacked event on January 14th
is now behind us and the curtain has lifted before the next generation of Galaxy flagships - the Samsung
Galaxy S21
series. After countless leaks online, we now know everything about the new devices.Samsung's official announcement has confirmed that the
Galaxy S21
&
S21+
follows in
Apple
's footsteps and feature flat displays, whereas the curved-edge panel is reserved for the premium
Samsung Galaxy S21 Ultra
.
You'll love these:
The camera bump has been completely redesigned by Samsung in the new S21 line and now it curves over the metal frame. This means that Galaxy S21 cases would have to take the unique design feature into consideration. The Galaxy S21 sales are online, and the next logical step is to make sure your new investment stays intact. Let's check out the best Samsung Galaxy S21 cases.
Samsung Galaxy S21 official cases
All the official cases from Samsung have been announced and are already available. There are quite a few official cases from Samsung this year, and the Galaxy S21 Ultra gets two dedicated S-Pen cases. Of course, the vanilla Galaxy S21 doesn't support the S-Pen, but there are still plenty of models to choose from.
Galaxy S21 5G S-View Cover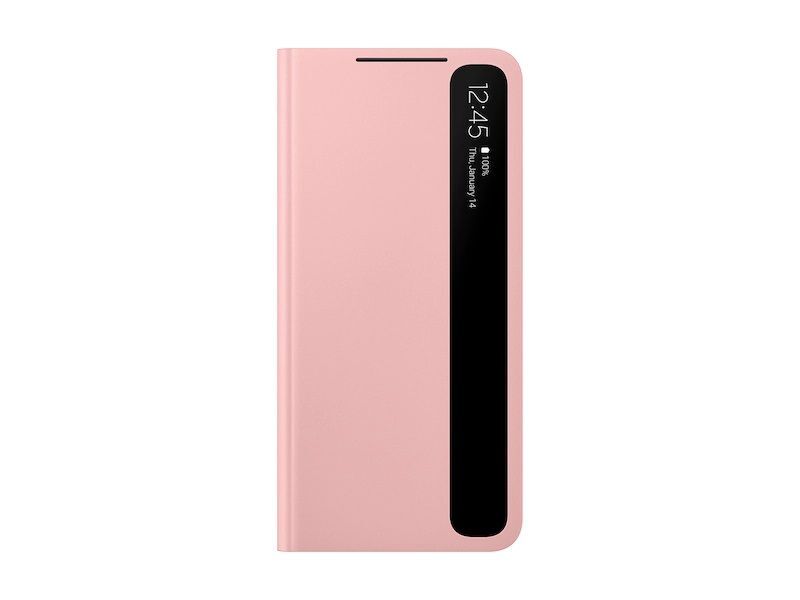 The S-View flip cover is well known and quite popular, and for a good reason. It features a window that shows you important information at a glance. When you flip the cover closed, your Galaxy S21 will automatically detect the case and align a dedicated always-on display to the window. It's a cool design that allows you to have maximum screen protection and access notifications and other important data without the need to open the cover. The Galaxy S21 5G S-View Cover comes in some really cool colors as well.
Galaxy S21 5G LED Wallet Cover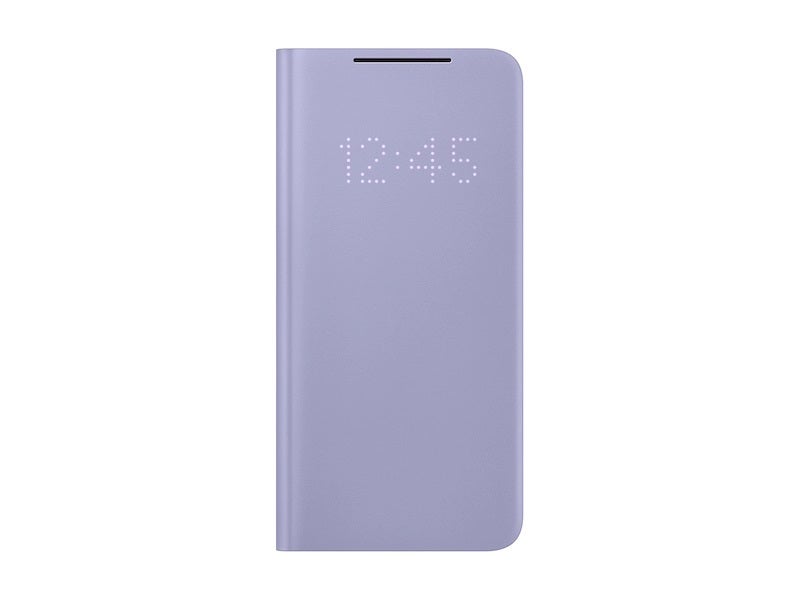 The LED Wallet Cover is back - it features a cool LED notification panel on the front that can display basic information, and also offer touch controls. Even with the cover closed, you can use the Galaxy S21, and answer or reject calls with a simple tap. There's a supplementary app that goes with this Samsung Galaxy S21 LED cover - when you install the cover for the first time a pop-up will appear prompting you to download the additional software and get this cool, intuitive app. It's not the cheapest Galaxy S21 cover out there, but the added features more than make up for the price.
Galaxy S21 5G LED Back Cover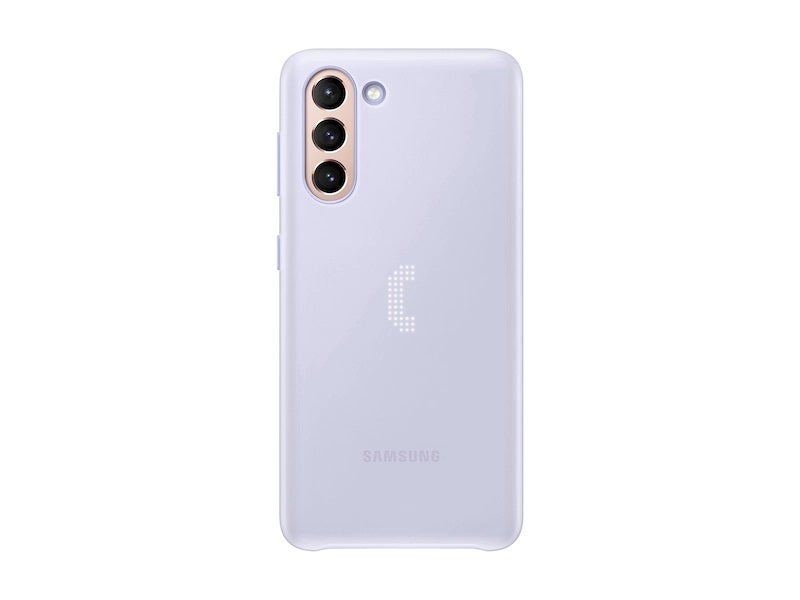 Samsung offers the same LED notification/control option in a simple back cover variant too. It's not as useful as the LED Wallet cover but you can still manipulate your Galaxy S21 phone when it lays on its screen.
Galaxy S21 5G Silicone Cover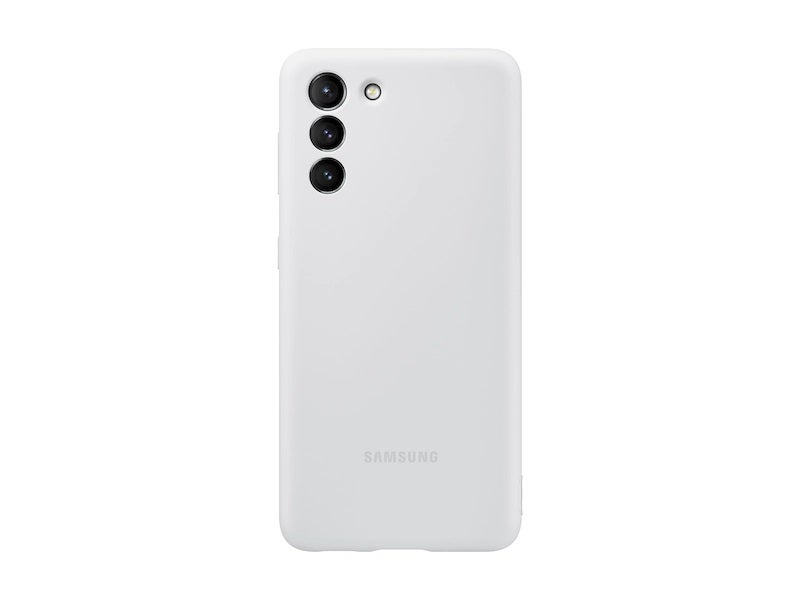 This classic silicone Galaxy S21 5G case is made of soft silicone, offering sleek protection from left to right, top to bottom. If you don't want to add bulk to your Galaxy S21, this case is perfect. It not only offers adequate protection but also easily fits in your pocket or bag. Again, there are some cool colors to choose from and the price is quite good, too.
Galaxy S21 5G Leather Cover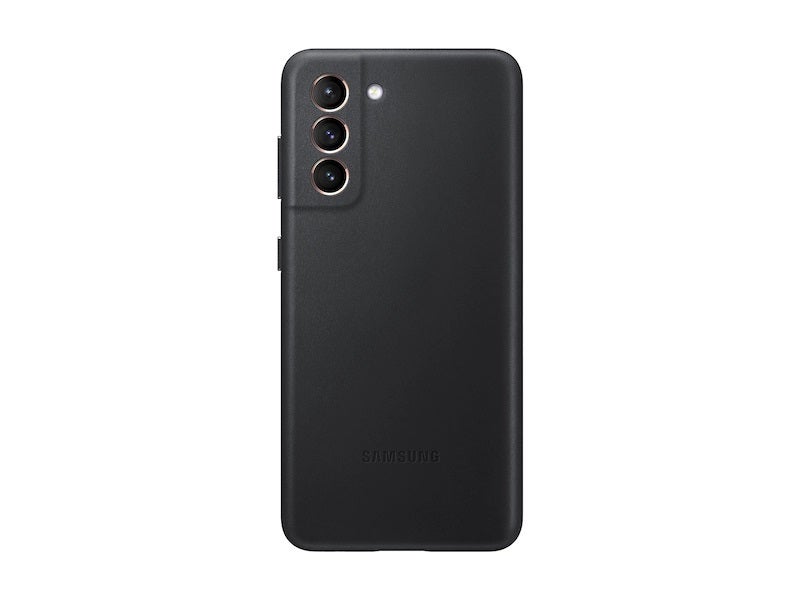 If you want to sprinkle some additional panage over your new Galaxy S21 5G, a leather cover is the way to go. This official case from Samsung is made from genuine leather, of course, and offers some additional protection to the camera system. The cover wraps around the edges of your Galaxy S21 and it's really comfortable to hold as well. Two color options with this one, though - black and brown.
Galaxy S21 5G Rugged Protective Cover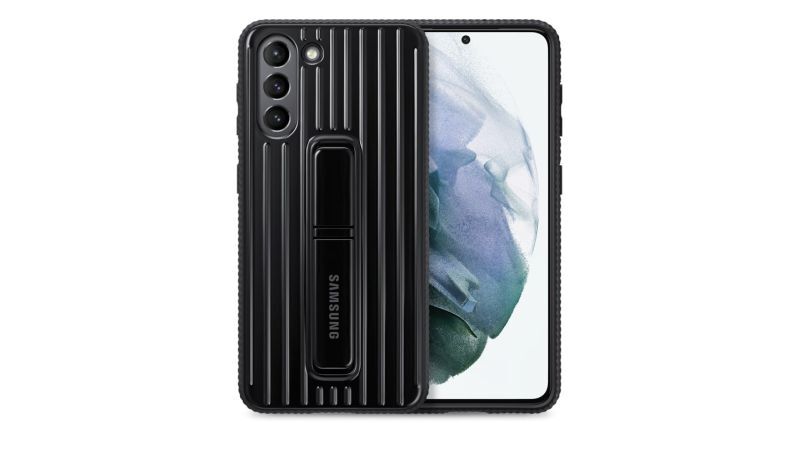 Behold the official rugged protective cover from Samsung - showing that sometimes looks are not as important as protection. This rugged Samsung Galaxy S21 5G cover has been drop-tested to military-grade standards, and it's one of the best options if you want to keep your phone safe from damage and drops. There are two separate kick-stands on the back that offer two comfortable viewing angles: 45 or 60 degrees. Two color options are available - black and silver.
Galaxy S21 5G Clear Standing Cover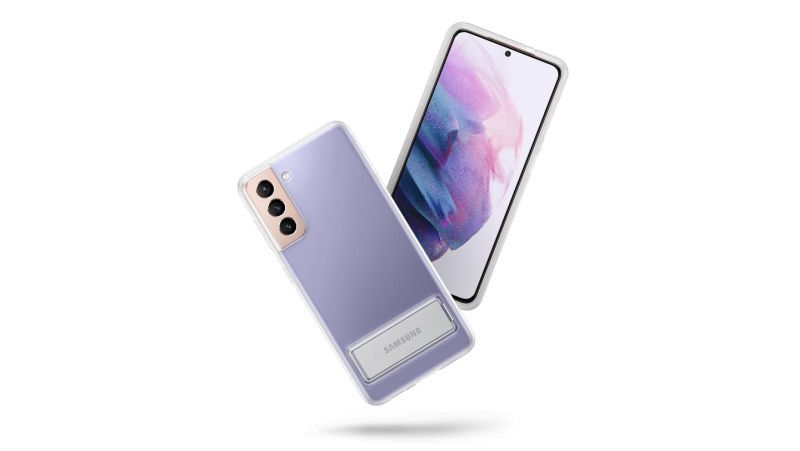 The Galaxy S21 5G comes in some cool colors this year, so why hide it under a cover? The Clear Standing Cover will help you show off your new gem, while still keeping it safe. The corners are protected with a soft TPU bumper, while the solid PC back protects the rear of your phone. There's an integrated kickstand on the back that's designed to work in landscape as well as in portrait mode.
Galaxy S21 5G Clear Protective Cover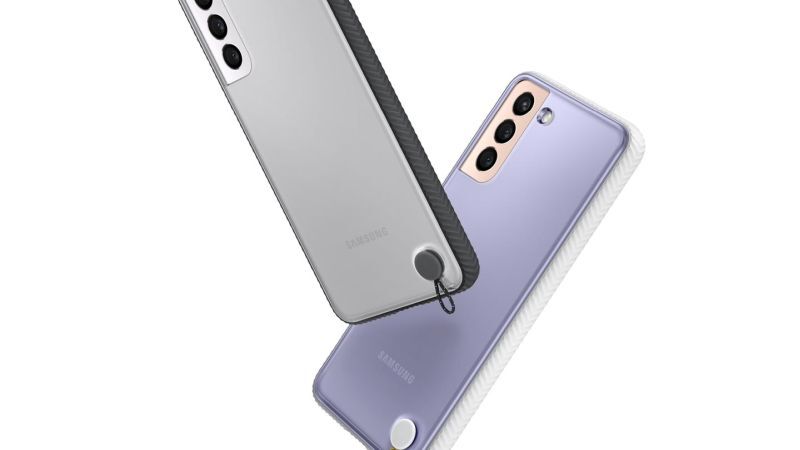 Who says that style has to necessarily come at the price of protection? This Galaxy S21 5G Clear Protective Cover offers both. Keep your phone tucked in and completely safe but show it to your friends at the same time with this official Galaxy S21 clear cover. It also features a soft bumper frame that protects the phone from accidental drops.
Galaxy S21 5G Clear Cover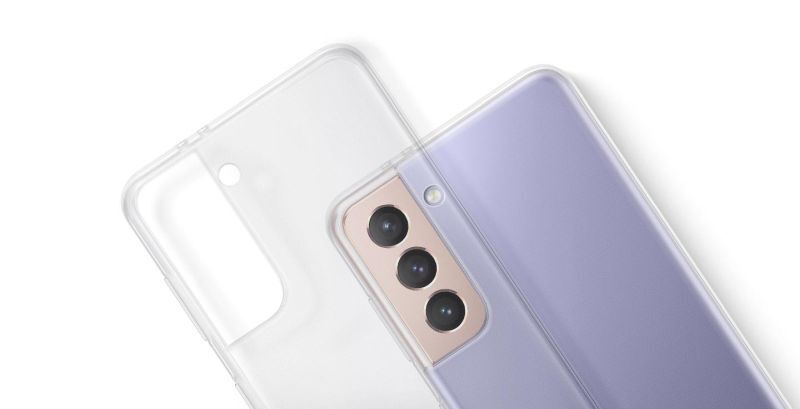 You can't go wrong with a simple clear cover, especially if you're on a budget. This official Galaxy S21 Clear Cover from Samsung offers the basic level of protection in a very slim package. The transparent material used in this case will stay perfectly clear for a long time without turning yellow. This is also Samsung's most affordable Galaxy S21 case.
Samsung Galaxy S21 5G third-party cases

Third-party Galaxy S21 5G cases are popping-up left and right like crazy. If the official Samsung Galaxy S21 cases don't float your boat, worry not. There already are some solid options and more and more Galaxy S21 cases will appear in the following days. So, stay tuned. Meanwhile, let's check out what's already available.
Samsung Galaxy S21 Clear cases
Spigen Ultra Hybrid Case Designed for Galaxy S21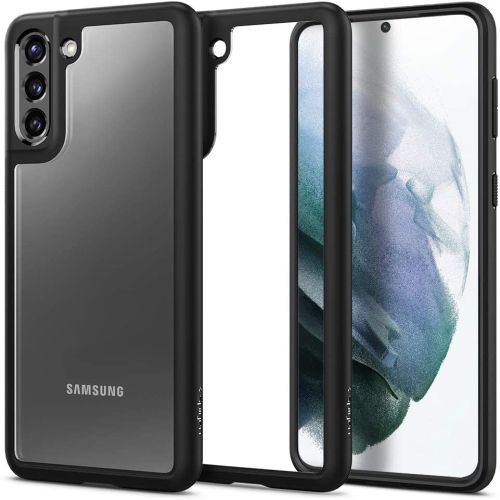 The Ultra Hybrid Galaxy S21 case from Spigen packs advanced drop protection in a single layer while keeping your new phone on display. There's a shock-absorbing flexible bumper that will absorb the impact of any accidental drop. The crystal clear back is hard and scratch-resistant, but also designed to preserve the original look of your phone without yellowing over time. Lastly, the Air Cushion Technology offers additional protection if you happen to drop your beautiful Galaxy S21. The price is also very good on this one.
Tech21 - Evo Check Case for Samsung Galaxy S21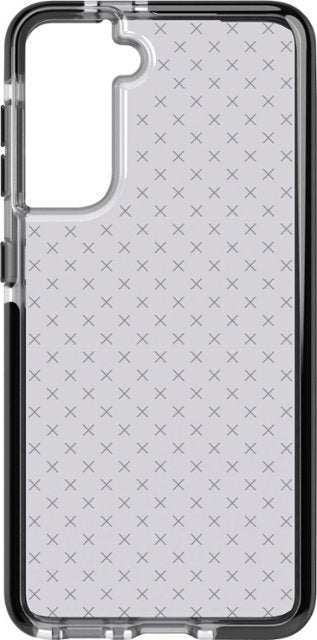 This is one of the most innovative cases that Tech21 has produced. The Evo Check offers incredible levels of hygienic and impact protection for your new Galaxy S21 phone. It offers up to 12ft drop protection, while at the same time reduces microbes by up to 99.99% thanks to the antimicrobial coating. The case it not completely clear, but rather features a stylish back with non-slip grip and a selection of interchangeable buttons.
OtterBox - Symmetry Clear Series for Samsung Galaxy S21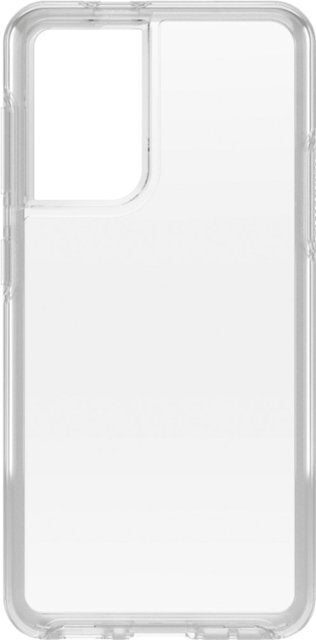 The Symmetry Series for the Samsung Galaxy S21 combines slim and protective with stylish. It's a clear case on steroids - in addition to the crystal clear view it offers a silver-based antimicrobial additive that helps inhibit microbial growth. OtterBox Symmetry Series is easy to remove and install but doesn't compromise on protection. It can withstand 3X as many drops as military standard (MIL-STD-810G 516.6). This case is also wireless charging compatible, so you don't have to take it off to charge you Galaxy S21 wirelessly.
Samsung Galaxy S21 Rugged cases
Spigen Tough Armor Case Designed for Galaxy S21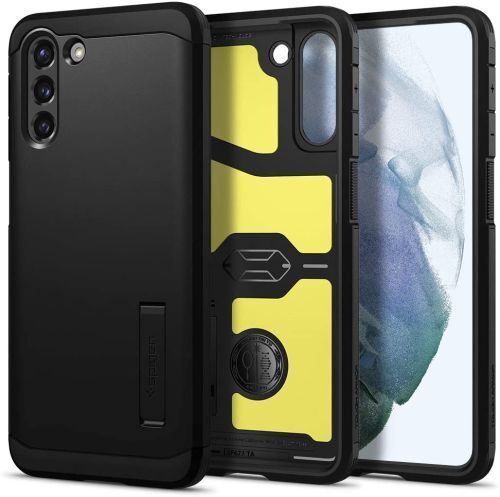 The Spigen Tough Armor case is a no-brainer when it comes to rugged design at an affordable price. It sports a dual-layer design and the new model features something called "extreme impact foam" for extra shock absorption. There's a polycarbonate shell that covers a flexible TPU inner frame, and the AirCusion technology on the corners ensures that your Galaxy S21 5G will survive almost anything you can throw at it. You won't believe how extremely affordable this case actually is, too!
OtterBox Defender Series Galaxy S21 5G case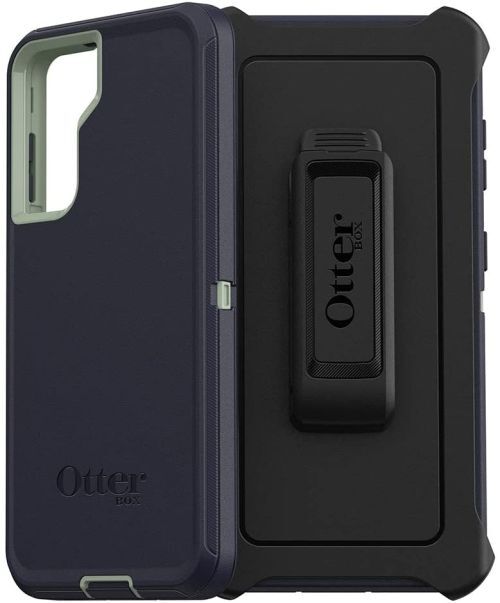 OtterBox is a well known brand that offers wide variety of robust and durable cases. What's more, they are designed specifically with world's most popular smartphones in mind. The Galaxy S21 5G cases are no exception. The OtterBox Defender Galaxy S21 case is another take at the rugged design, and a very solid one. It offers a multi-layer defense: solid inner shell and soft outer cover, along with port covers to keep out dust and debris. There's a kick-stand that's also a belt-clip holster and of course, this case features the signature OtterBox design. It's simply one of the best Galaxy S21 rugged cases out there.
Pelican - Voyager Series - Case for Samsung Galaxy S21 5G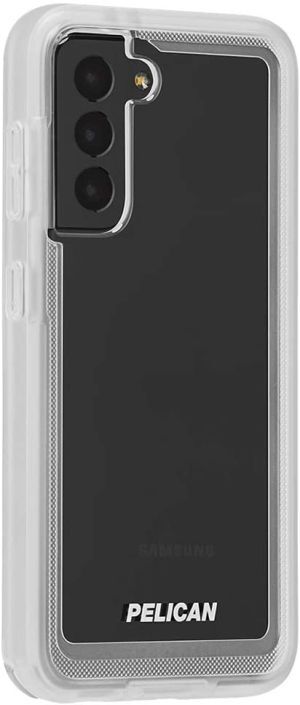 The Pelican Voyager case from Case-Mate serves two purposes - first, to protect your Galaxy S21, second - to let its original color shine through. It's a clear case that at the same time offers unprecedented protection. The Pelican Voyager has four-layer protection to prevent cracks, breaks, and other damage. Raised lip provides additional shock absorbtion to protect your Galaxy S21 screen. The case is military grade drop test certified (MIL-STD-810G), for multiple drops up to 10 feet. The case comes with some goodies - an easy-to-use holster with a swiveling belt clip and a kickstand.
UAG - Civilian Series Case for Samsung Galaxy S21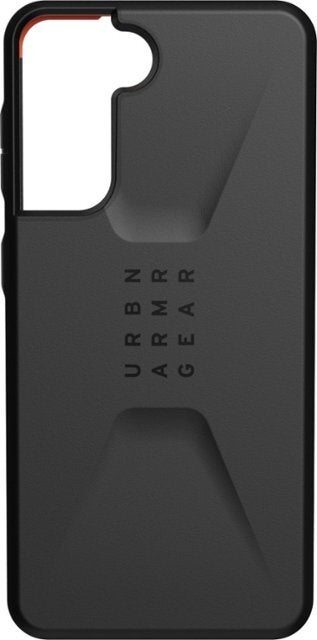 UAG Civilian Series Cases offer a more understated looks while keeping protection at a top level. The UAG - Civilian Series Case for Samsung Galaxy S21 features an impact resistant exoskeleton, hex cushioning & shock absorbing panels. As a result the case meets 2X Military drop-test standards (MIL STD 810G 516.6). UAG managed to keep the case thin and lightweight, too, and it's also wireless charging and NFC payments friendly.
Speck - Presidio2 Grip Case for Samsung Galaxy S21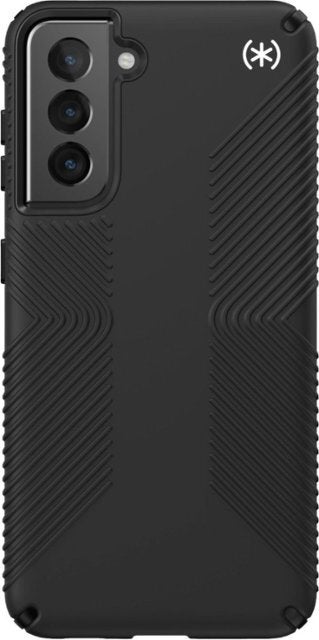 This Samsung Galaxy S21 Ultra case from Speck comes with a soft-touch finish for ultimate comfort plus no-slip grips for better grip when texting, talking, or taking photos. The Armor Cloud technology in this case is really great - air capsules are strategically placed around the corners and on impact, they compress and suspend your phone on a cushion of air, just like an airbag. As a result, it can withstand drops of up to 13 feet, and also has an antimicrobial Microban coating that offers up to 99% reduction in stain and odor-causing bacteria.
UAG - Monarch Series Case for Samsung Galaxy S21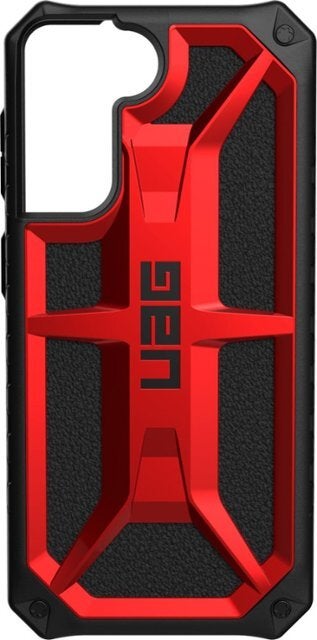 The pinnacle of protection comes from Urban Armor Gear and it's called the Monarch Series. As you can tell just by looking at this case, it is engineered to withstand abuse while giving your phone a premium aesthetic. The unique 5-layer construction is so tough that it surpasses military standards for an unrivaled level of protection. The UAG - Monarch Series Case for Samsung Galaxy S21 is also thing and lightweight with a cool industrial looking exoskeleton. It's also bright red!
Samsung Galaxy S21 Leather cases
TORRO Samsung Galaxy S21 Genuine Quality Leather Flip Cover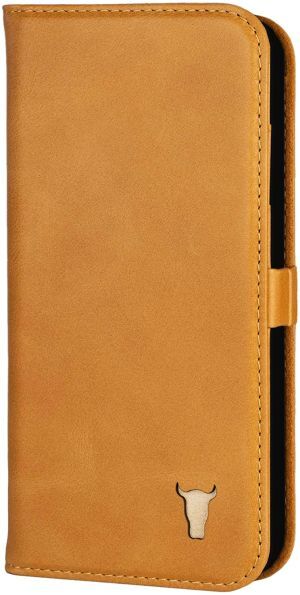 If you, for some reason, don't like Samsung's take on the leather flip cover, there's a really premium substitute. The TORRO premium leather stand case for Samsung Galaxy S21 is handcrafted from genuine tan leather sourced from the USA. The case is also very durable, thanks to the impact-absorbing TPU internal frame. You can use this case as a stand, too - ensuring the best viewing experience if you're about to binge-watch the next big Netflix series. Last but not least, the case features 3 card slots and a separate compartment for bills/receipts. The TORRO Galaxy S21 Leather Flip Cover is quite slim, and comes in three color variants - Tan, Dark Brown, and Black with Red Detail.
Samsung Galaxy S21 Stylish cases
Incipio Kate Spade New York Defensive Hardshell Case for Samsung Galaxy S21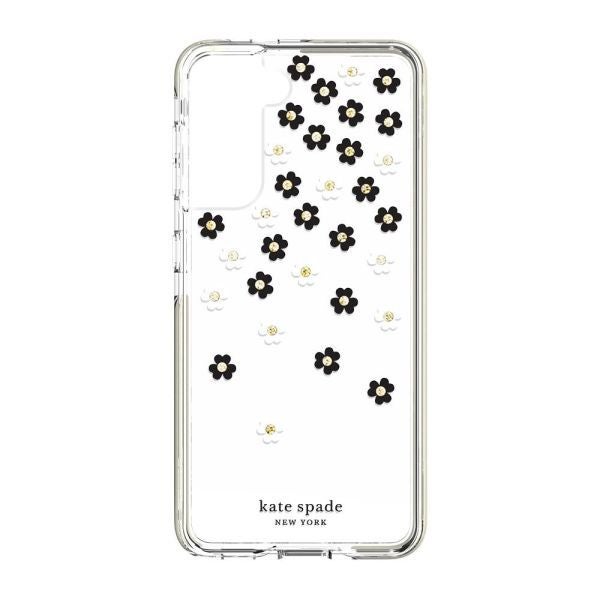 Sometimes it's all about style. There are many stylish Galaxy S21 cases on their way but in the meantime, you can't go wrong with Kate Spade. The renowned New York luxury fashion design house will make you Galaxy S21 phone stand out. The case offers adequate protection too - it comes with a shock-absorbing, cushioned bumper that provides additional layer of protection. There are protective button coverings and everything is also scratch-resistant.
Rifle Paper Co - Case for Samsung Galaxy S21 5G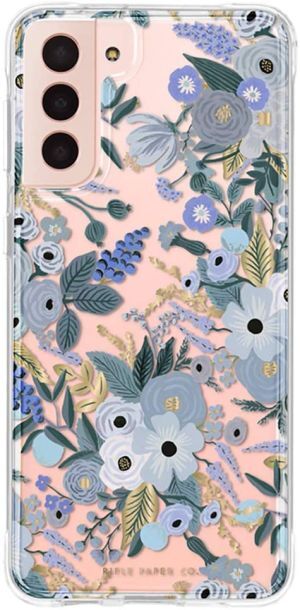 If you want something really unique for your Galaxy S21, Case-Mate offers these series of stylish cases. You can choose from Ombre Stardust, or Iridescent Swirl, but the cherry on top is the Garden Party case from the renowned design studio Rifle Paper Co. It's another floral case but with added protection - it can withstand up to 10 feet drops, and the back is also scratch-resistant. Take a look at these cases and add some style to your Galaxy S21.
Mous Limitless 3.0 Samsung Galaxy S21 5G case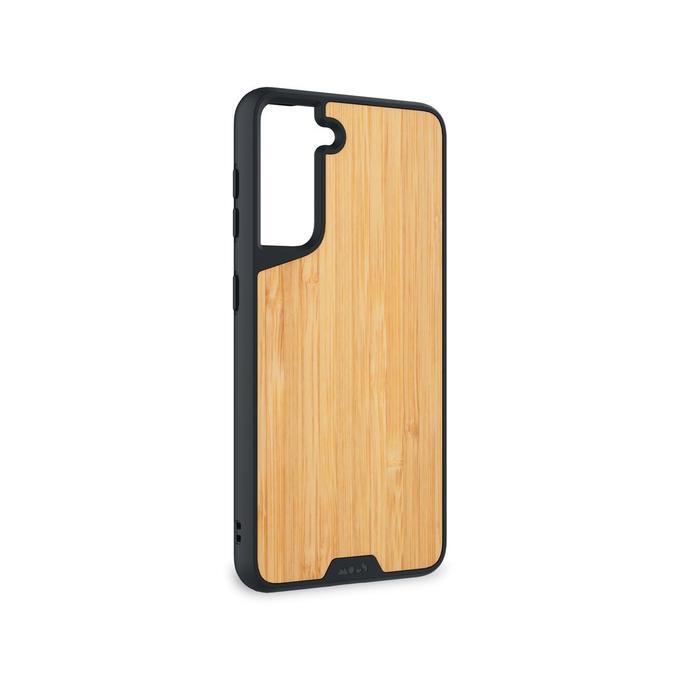 Limitless technology adds additional functionality to your normal case. It uses powerful magnets that allow you to quickly slap the case on a car stand or add a magnetic card wallet to the back. Furthermore, the Limitless 3.0 cases come with very distinctive looks and use premium materials. You can choose a Carbon-fibre design or opt for a more traditional and really stylish Bamboo or Walnut back. This Galaxy S21 case features all Mous' protection features and is also compatible with Qi fast chargers.