Apple's new iPad mini bends but does not break in grueling durability test (video)
12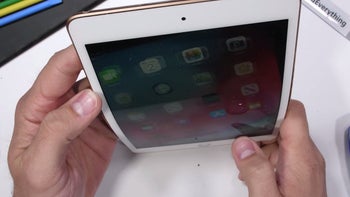 At $399 and up, Apple's
refreshed iPad mini
, which looks an awful lot like the 2015 generation, is obviously no match for the
2018-released iPad Pro lineup
, which starts at a $799 price, in terms of raw power, sleek design, or modern features. But believe it or not, the smallest new member of the world's best-selling tablet family might actually hold an important advantage over its 11 and 12.9-inch cousins... in addition to superior portability.
While the
iPad mini (2019)
is not significantly thicker than the latest
iPad Pro
variants, at 6.1 versus 5.9mm, its compact size and minimalistic design appear to contribute to vastly better durability. That's at least according to popular YouTuber and master gadget destroyer Zack Nelson from JerryRigEverything, who managed to
bend the iPad Pro 11 (2018) out of shape
and pretty much break the thing in two with little to no effort last fall.
As you can see in the recently uploaded video embedded above (at around the 6-minute mark), it takes a bit more muscle to flex Apple's newest 7.9-incher, which also miraculously survives this grueling test with its functionality intact. Once bent, the iPad mini 5 cannot be (completely) unbent, but the slate essentially defies physics, locking out at an obtuse angle no matter how hard you might try to further compromise its integrity.
Clearly, that's not an ideal durability behavior, but the $399 build quality is substantially better than what you're getting in exchange for $799 and up. Of course, no (sane) iPad mini 5 owner is likely to replicate Nelson's treatment of the hot new tablet out in the real world, but this experiment is usually a good indicator of how well gadgets can handle long-term usage and day-to-day abuse.
Something tells us the refreshed iPad mini will not ship with
any sort of a bend out the box
, with scratch tests pretty much yielding the expected results in this day and age. The screen is covered in tempered glass, the front and rear-facing cameras are similarly protected against keys and coins, and the metal sides are as robust as always. All in all, this is definitely a well-constructed device justifying its price.