Apple iPad mini 2019 brings powerful A12 processor and Pencil support in a retro package
22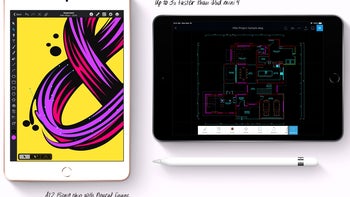 Just as expected, Apple took to the airwaves and announced two new Ipads without great fanfare in the form of a press release. Besides the new iPad Air, the big news is the resurrection of the iPad mini line with the 5th generation of Apple's venerable tiny tablet making a cameo just in time for the new streaming service. Both sport
Apple Pencil
support this time around, albeit of the first generation, and are with souped-up internals. Here's the mini scoop.
Apple iPad mini 5 design and display specs
The IPS display has retained its 7.9" diagonal and 2048‑by‑1536 resolution with 326 ppi, but has gained wide color (DCI-P3 gamut) support and Apple's True Tone technology for keeping the white balance of the display the same in appearance to the user, regardless of the ambient light around the screen.
Apple iPad mini 5 processor and memory
Needless to say, just like the newly-announced iPad Air, the Mini is also powered by Apple's newest A12 processor that has proven to return some industry-topping benchmarks that can only be beaten by its souped-up
A12X
version in the Pro models. As usual, Apple only writes "A12 Bionic chip with Neural Engine," instead of detailing clock speeds and RAM amounts, but judging from our benchmark tests, the chipset in the iPad mini won't have you wanting more for at least the next two years or so. The iPad mini 5 starts with 64GB of storage and has another model that offers 256GB out of the box.
Apple iPad mini 5 cameras and Pencil support
The new mini comes with 8MP rear camera, like its predecessor, but the front selfie-taker has been given a significant upgrade in resolution to a 7MP FaceTime HD camera. Besides the internals brought in line with the rest of its 2018 gang, Apple is adding extra value by introducing a Pencil stylus support. The first-generation Apple Pencil can now be used on the new iPad mini's wide-color screen for doodling, highlighting and other stylus tasks. Needless to say, the Pencil doesn't come with the iPad, and is available as a separate $99 purchase if you so desire.
Apple iPad mini 5 price and release date
The iPad mini 2019 will run you $399 in the most basic Wi-Fi-only version with 64 GB storage, while the Wi-Fi + Cellular model takes off from $529. The 256-gigger is $549 is you are only going to access the web via Wi-fi, but if you want cellular connectivity, it will run you the respectable $579. Both iPads are available for immediate purchase, and the iPad mini 2019 can be ordered in Gold, Silver and Space Gray.
Initial availability will be in Australia, Austria, Belgium, Canada, Czech Republic, Denmark, Finland, France, Germany, Hong Kong, Hungary, Ireland, Italy, Japan, Luxembourg, Netherlands, New Zealand, Norway, Poland, Portugal, Singapore, Spain, Sweden, Switzerland, the UAE, UK and the US, while China, Mexico, Colombia, Greece, India, Israel, Russia, Saudi Arabia, South Africa, Thailand, Turkey and others, will be getting it a later day which is yet to be announced by Apple.