Apple's iPhone 11 Pro is unlikely to catch up to the best Androids in terms of 4G LTE speeds
18
Apple doesn't like to hype the specifications of its new devices much, focusing more on the real-life capabilities and features enabled by various display, camera, processor, or battery upgrades than things like resolution, clock speed, cell size, or memory count. But theoretical numbers often correlate with the concrete user experience, which is why it's definitely important to know what the hot new
iPhone 11 Pro
and
11 Pro Max
can do in terms of 4G LTE speeds, for instance.
Unsurprisingly, no cellular speed tests were performed on stage at the September 10 launch event in Cupertino, while the
official iPhone 11 Pro spec sheet
keeps things as vague as always, listing Gigabit-class LTE support with 4x4 MIMO and LAA for "all models." That's all
iPhone 11 Pro
and Pro Max models, mind you, with the "regular"
iPhone 11
listed as including slightly humbler Gigabit-class LTE technology with 2x2 MIMO.
In case you're wondering, the
iPhone XS
and
XS Max
also came with "Gigabit-class" LTE modems and 4x4 MIMO, while the
iPhone XR
featured a similarly downgraded 2x2 MIMO (multiple input, multiple output) antenna design in combination with a generic Gigabit-class LTE chipset. That seems to suggest nothing has changed, but according to one company specialized in independent evaluations of download and upload speeds, that might not be the case after all.
The iPhone 11 Pro and Pro Max deliver an important but far from game-changing upgrade
Based on nationwide data collected from August 9 to September 9
, the LTE modems inside Apple's latest high-end handsets make the iPhone 11 Pro and
iPhone 11 Pro Max
faster than last year's XS and XS Max by an average of around 13 percent. To reach that conclusion, SpeedSmart examined all big four carriers, also declaring T-Mobile the best of the bunch for both downloads and uploads, closely followed by Verizon. AT&T ranked third at a substantial distance, with Sprint dead last (as usual) and pretty much impossible to include in the same league as T-Mobile, especially in terms of upload speed.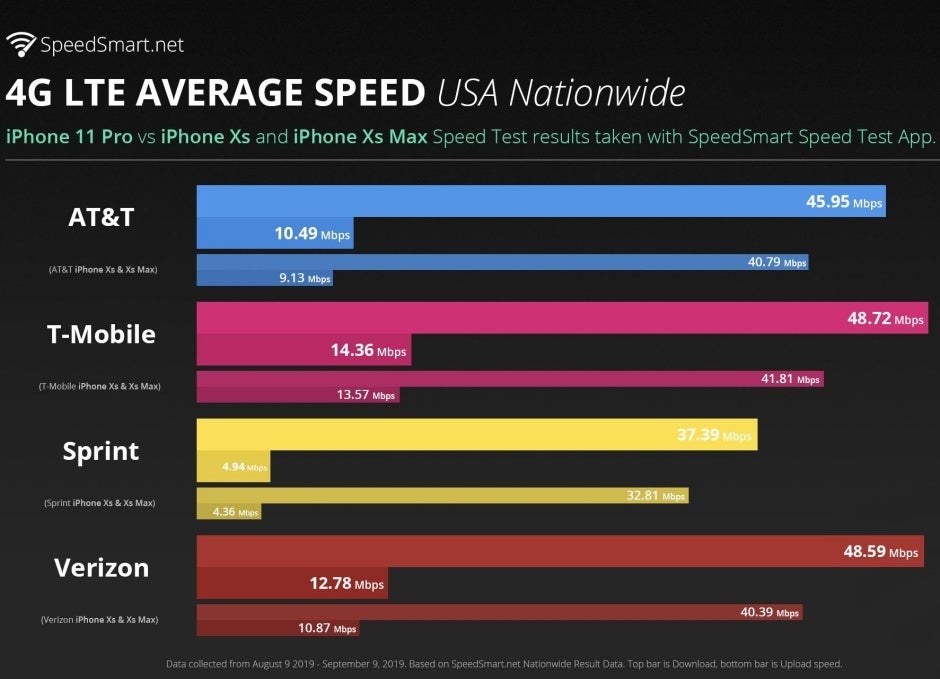 Talking numbers, it looks like you can expect the iPhone 11 Pro to reach anywhere between 37 and 49 Mbps in downloads, up from 32 to 42 Mbps for the XS and XS Max. Of course, these are theoretical nationwide averages, so depending on where you live... and about a dozen other factors, your real-world figures will often be significantly lower.
Another thing we need to highlight is that it's not entirely clear where SpeedSmart got its iPhone 11 Pro and 11 Pro Max units from to be able to perform these tests starting August 9. After all, the handsets are only scheduled to go up for pre-order on September 13, with deliveries kicking off 7 days later. Now, we're not saying these tests didn't happen, but it might be wise to wait and see if other sources confirm the data and apparent LTE improvement.
How does the iPhone 11 Pro compare to the competition?
It's obviously hard to answer that question without relevant data provided by the same company, but it just so happens that OpenSignal released a
very comprehensive report on this topic earlier this week
. In it, the iPhone XS and XS Max were ranked a shameful 47 and 43 respectively for US download speeds, with averages of between 25 and 26 Mbps. That's lower than what SpeedSmart got in the last month, but even assuming the latter's 13 percent upgrade would translate into a 13 percent iPhone 11 speed bump in the former's rankings, that's not enough to challenge the OnePlus 7 Pro, LG
V35 ThinQ
, Samsung
Galaxy S10+
, and the rest of the Android heavyweights.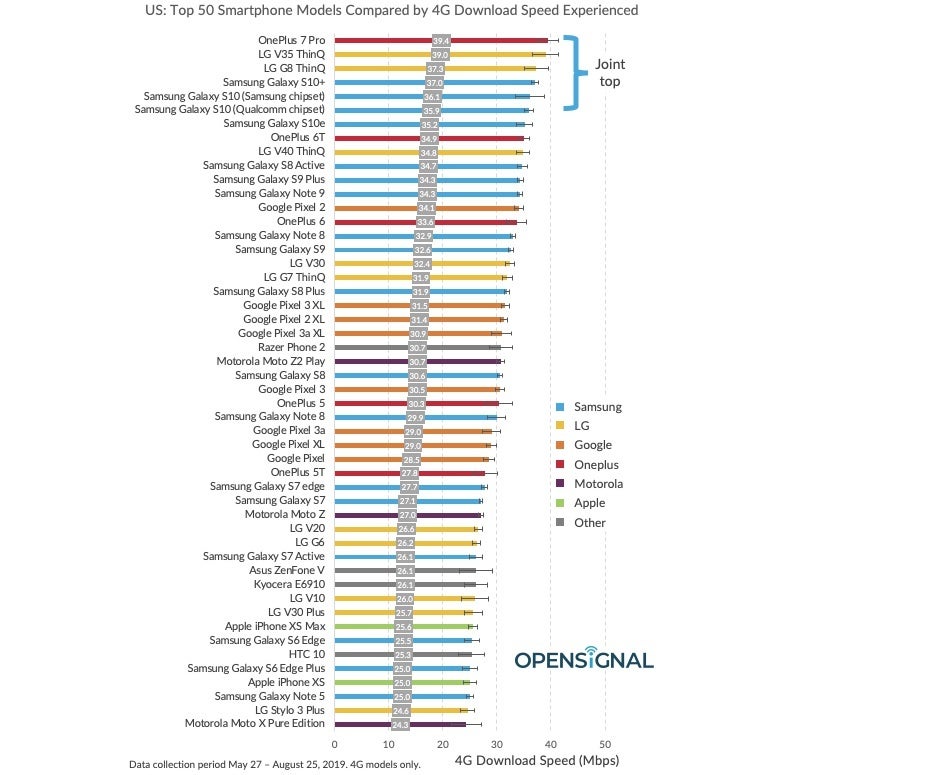 In other words, Apple still has plenty of catching up to do as far as LTE capabilities are concerned. Then again, the next iPhone generation
could make the 5G jump en masse
, possibly leveling the field all of a sudden if
Apple and Qualcomm can bury the hatchet
. Until then, it will be interesting to see if the cheaper iPhone 11 is moderately upgraded too. While insiders
pointed in that direction
several times over the last few months, we'll have to wait for a different set of tests to confirm or refute that particular rumor.
For what it's worth, the iPhone XS and XS Max can typically upload stuff on 4G at a pretty decent pace, and according to SpeedSmart, the mysterious new LTE modems on board of the iPhone 11 Pro and Pro Max deliver a solid improvement in that area as well, which might be enough to close the gap to Huawei, OnePlus, and Google reported by OpenSignal.