Apple's 2019 AirPods expected to boost the market, prompt Amazon and Google copycats
10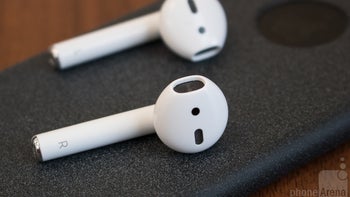 Apple doesn't always follow a traditional 12-month upgrade cycle for some of its more experimental products,
leaving the HomePod hanging
after a first-gen announcement back in the summer of 2017, while the December 2016-released
AirPods
are still without a sequel.

Of course, it's not like wireless earbuds from other companies have made any great strides these past couple of years, as the fledgling industry seems frozen in anticipation of the next step from the Cupertino-based tech giant.
Google and Amazon are among those predicted to launch "AirPods-alike products in 2H19." The former already sells
Pixel Buds
at the same exact price as first-gen AirPods, while the latter has yet to tackle this market, despite releasing more Alexa-powered gadgets and accessories this year than we can count on our fingers and toes.
Kuo expects wireless earphones to take off in a big way before long, as smartphone manufacturers find it increasingly difficult to defy
recent market stagnation trends
. That may sound somewhat counter-intuitive, but more and more companies could try to offset their shrinking handset shipments with sales of premium, compact, and versatile audio accessories.
Amazon and Google should be able to provide the stiffest AirPods competition due to their
obvious voice assistant strengths
, but Apple is likely to maintain its domination over the fast-growing market with the 2019 addition of wireless charging functionality, a possible 2020 "all-new design", and eventual integration with the Apple Watch for "better health management." Now that last part sure sounds exciting. Distant but exciting.
Recommended Stories