Amazon undercuts Tidal while beating Apple and Spotify to the HD music streaming punch
8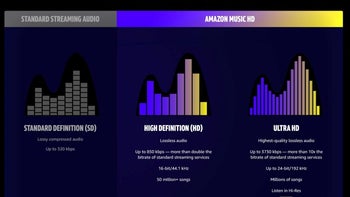 Amazon's music streaming platform is technically older than both
Spotify
and
Apple Music
, but until just a couple of years ago, it didn't seem like the e-commerce giant was taking this
thriving industry
very seriously. That changed with the introduction of an
Amazon Music Unlimited service
separated from the company's Prime subscription, which costs a traditional $9.99 a month.
But in addition to being able to lower that price to $7.99 with a Prime membership, $3.99 for single-device listening on an Echo, Tap, or Fire TV, or even
$0 with ads and a number of other restrictions
, you can now choose a super-premium service tier starting at $12.99. Don't worry, this option isn't actually called Amazon Music Unlimited Premium, but rather Amazon Music HD, granting unlimited, ad-free access to "more than" 50 million songs in High Definition and "millions" of songs in Ultra High Definition.
Obviously, HD and Ultra HD are used as generic terms to describe advanced technologies and specifications most everyday consumers are probably not familiar with. Audiophiles will be happy to hear both quality ranges stand for lossless music, available with a depth of 16 bits, a minimum sample rate of 44.1 kHz, and an average bitrate of 850 kbps in "HD", while the "Ultra HD" library consists of tracks upgraded to 24 bits, a sample rate of up to 192 kHz, and a 3730 kbps average bitrate.
Keep in mind that an Amazon Music HD subscription includes access to both the HD and Ultra HD libraries, setting you back $12.99 a month only if you're an existing Prime member. Otherwise, you'll have to pay $14.99, which is still 5 bucks lower than what Tidal charges for a similar HiFi individual plan. A family license is $19.99, compared to $29.99 for Tidal Family HiFi, while Spotify and Apple Music don't have a lossless service tier yet.
If you haven't subscribed to Amazon Music Unlimited before, you can even get a 90-day Amazon Music HD free trial for a limited time. Just remember your membership will be automatically renewed at the regular monthly fee once your complimentary 90 days are up if you don't take the time to cancel it.