AirPods named Apple's second best-selling product 'out of the gate', no sequel needed
19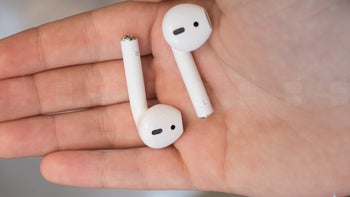 You'd probably expect Apple's
AirPods
to have lost a little steam after hitting stores more than two years ago and needing several months to match production and demand, but according to some in-depth
new research conducted by Above Avalon
's Neil Cybart, consumer interest over time seems to have actually grown, peaking during the 2018 holiday season.
That's certainly an unusual phenomenon, exacerbated by a lack of hardware upgrades and
constant rumors of a sequel
that have
ramped up recently
as well. While Apple is unlikely to ever share the official sales numbers of its trend-setting wireless headphones, this particular analyst believes there are currently "at least 25 million people wearing AirPods" around the world.
The already impressive figure is projected to rise to more than 50 million at some point this year, as Apple is purportedly on track to sell roughly 40 million units in 2019, which would represent a staggering year-on-year progress of almost 90 percent. Perhaps most remarkably, Cybart has reason to believe AirPods are the all-time second most successful Apple product "out of the gate", meaning its global shipments since late 2016 may have exceeded the initial sales of the original iPhone and Apple Watch.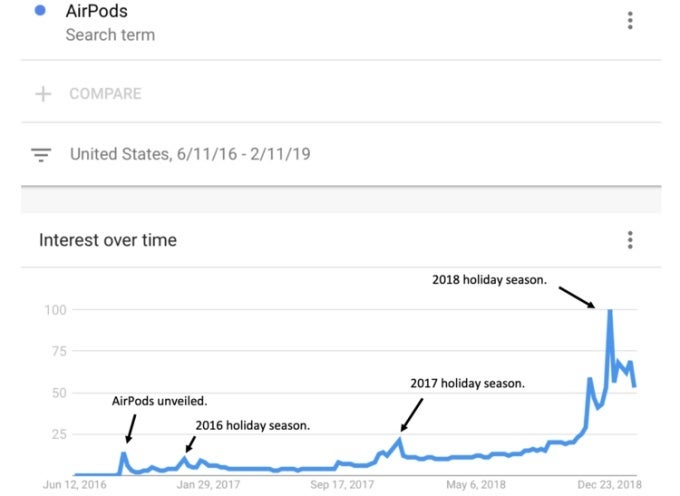 If this theory is true, the iPad is the only Cupertino-designed device that garnered more excitement during its first two years on the market, although interest levels quickly plateaued after that honeymoon phase. The AirPods are unlikely to suffer the same fate, especially considering
the hype currently surrounding a sequel
(or rather a refresh) expected to see daylight this spring.
Granted, the aforementioned sales estimates and forecasts are hardly what we'd call rock-solid, hailing from unofficial sources, educated guesses, and viral measurements. But the truly impressive thing about Apple's first-gen AirPods is their 500 percent (!!!) year-over-year growth in 2018 Google search interest.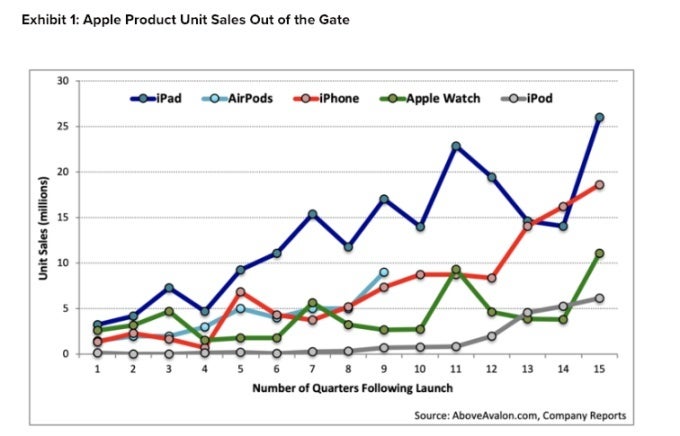 Basically, these have gotten trendier with time, generating memes, viral videos, and ingenious methods to keep them around sans wires, all of which highlights Apple's unique advertising strengths. Now let's see what happens when the
market gets flooded by more and more copycats
.