ZTE remains in limbo, caught between deal with White House and possible legislation
11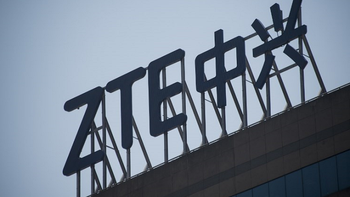 Some employees working for Chinese smartphone manufacturer ZTE are having to hold it in when nature calls. According to the
South China Morning Post
, a broken urinal at ZTE's facility in Shenzhen, China is not being repaired. It isn't that the company is being cheap. It's just that the urinal is made by American Standard, located in New Jersey, and the U.S. export ban prevents ZTE from purchasing parts for it.
A photo of the offending urinal (and we have to believe it is offending at this point) was posted online and verified by a ZTE employee. A sign taped above the urinal is in Chinese; translated it says that the urinal will be fixed as soon as the U.S. export ban is lifted. And ZTE happens to be in limbo as far as the ban is concerned. On one hand,
ZTE reportedly agreed to demands laid out by the White House
in exchange for the lifting of the export ban. ZTE promised to pay a $1 billion fine, and put $400 million into escrow to cover future illegal escapades. It also promised to replace its executive team and the Board of Directors while installing a U.S. selected team to monitor compliance.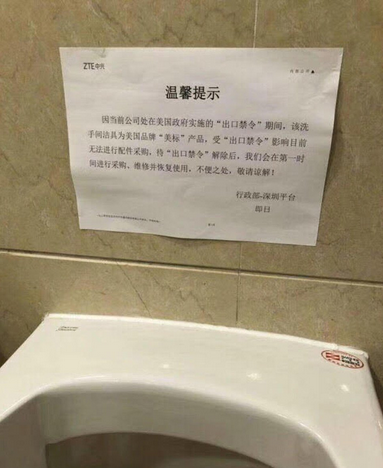 Sign above broken urinal at ZTE facility says that the company must wait for the U.S. export ban to be lifted before it can be fixed
ZTE has already paid the $1 billion fine, and is itching to get the export ban lifted so that it can purchase the U.S. sourced hardware, software and components necessary for it to build its phones. U.S. lawmakers have a different point of view, especially since
ZTE was named a national security threat by Congress back in 2012
because of its ties to the Chinese government. The company was said to be using its phones and networking equipment to spy on U.S. consumers and corporations.
The phone maker has no one else but itself to blame for being in this mess. After violating U.S. sanctions by selling goods and services to North Korea and Iran, the
U.S. Commerce Department fined ZTE $1.19 billion last year
, and ordered the company to put a letter of reprimand in the files of all employees involved. It also demanded that bonus payments to those employees be withheld. And a U.S. export ban was stayed and would not go into effect as long as the manufacturer kept its nose clean.
Instead, ZTE failed to comply with the Commerce Department's punishments until the latter started sniffing around. As a result,
the stay on the export ban was lifted
putting ZTE in the predicament it now finds itself in. The ban isn't scheduled to end until the middle of March 2025. And that's a long time for ZTE employees to hold it in.
source: SCMP