Your LG G5 wish-list: premium design, compact version, fingerprint scanning, dual speakers and waterproofing
29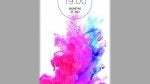 A week ago, we asked you, our readers,
how would you improve next year's LG G5
if you had the chance to be involved in the smartphone's production! We left you to your musings, then we collected the very best of your suggestions.
As usual, you didn't disappoint! Judging by your requests, LG has its work for 2016 cut out in front of them if they want to improve on the LG G4's foundation in meaningful ways. Here are five user suggestions the company should consider:
Premium design
Our readers made it perfectly clear that they'd rather not give another all-plastic LG flagship a chance. If the LG G5 doesn't go all-out glass and metal like the rest of its peers, then at the very least, LG should fashion its buttons and sides from something that's more pleasant to the touch than glossy plastic! Samsung experimented with a mixed plastic and metal approach in the Samsung Galaxy Note 4, and the end result was definitely a step above the Galaxy Note 3 in terms of aesthetics. If rumors are to be trusted, LG will introduce a new design language later in 2015, with the reveal of
a new high-end smartphone
.
A mini version that has the same specs, but smaller screen
Another thing about LG's recent flagship smartphones is, well, their size. While the LG G3 is unexpectedly wield-able, considering its imposing 5.5-inch display, it is still a large smartphone. The LG G4, though, is even bigger, and with a slightly worse screen to body ratio at that! LG should consider slimming down its hero device for next year, and while it's at it, why not bring a compact version of the phone with the same stellar specs, but a hand-friendly size! The Xperia Z3 Compact
has been selling like hotcakes in Japan
just because it's so small, yet power-loaded! Moreover, it's 2015, people - "mini" should no longer mean low-resolution screens and sub-par performance!
Fingerprint scanning
Smartphone users quickly warmed up to the idea of using their fingerprint for security and authorization instead of punching in passwords on touch-screen keyboards. No surprises here, right? So here's hope that LG will bring its own spin on Touch-ID in the next G-series flagship. Besidesm LG loves stuffing its smartphones full of technological components to make our lives good, so a fingerprint reader seems like a natural choice for the innovative Koreans!
Dual stereo speakers
Nothing like having your smartphone be your own personal, portable boombox, huh? Unlike Sharp, for example, which
designs its smartphones like its television sets
, LG doesn't mind leaving a bit of meat on its handsets' top and bottom. So why not take advantage of the available space and put some big ol' speakers in the LG G5? Your move, LG!
Waterproofing
Finally, having your expensive smartphone be water and dust-resistant is a huge piece of mind. Apparently, the majority of customers don't care so much for these valuable features, considering Sony's trouble selling its excellent Xperia smartphones outside Asia. Also, this degree of protection involves complicated design and engineering decisions, which LG might not be willing to take up. Still, protection against the elements is a good fit for LG's brand, and if LG puts its mind to it, it will make it happen!