Now that the LG G4 is out, tell us what improvements you want to see in the LG G5 next year!
46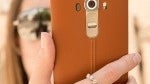 It's been a good few weeks since the
LG G4
was announced, and even though the handset is yet to land in your anxious hands, we've already helped you form a solid all-around impression of LG's 2015 hero phone. Our detailed hands-on reviews, comparisons, photos, and videos have given everyone a chance to learn all there is to know about the leathery smartphone, save for how the gadget will fare after a couple of months (or years) of use. But that's a story for another time, as we cannot fast-forward into the future! Regardless, our overall impression of the LG G4 is that it managed to fix most of its predecessor's flaws (the lagging performance and utilitarian looks come to mind), while improving upon its display and camera technologies's strengths. However, the LG G4, just like any technological product, left a fair amount of room for improvement in its upcoming successor, which became clear in our writing and analysis.
All things considered, it feels like the right time to ask you, our passionate readers - what does a hypothetical "perfect" LG G5 look and feel like, according to you? What's the desired combination of design choices, components, features, fixes of past flaws, and innovative newcomers that will make the LG G5 the ultimate LG smartphone? Go on, tell us in the comments section below. To aid in your imagination, we've listed five areas of the LG G4 where LG could seek improvements to build its next flagship upon. Over the next week, we'll watch you think, discuss, and come up with ideas - possibly beyond the industry's wildest dreams! And then, we're going to pick the best choices and line them up in an article. The rules are clear. Jump right in!