You can now send just about any file type with WhatsApp
2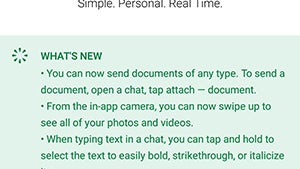 Courtesy of a recent app update, WhatsApp users can now send almost any common file between one another. Be it a PDF document, a ZIP archive, an .XLS table, or even an .APK file, WhatsApp users can share files up to 100MB large on Android and up to 128MB on iOS. Even JPEG files get some love.
Wait, what? Of course, WhatsApp supported image sharing, but the app used to overly optimize and deteriorate the quality of the sent images. With the latest update, WhatsApp fans can share unadulterated JPEG files between one another, which is totally a great piece of news! What's more, if you send a trove of images to another party, these will get bundled together so as not to flood the message thread.
Aside from the ability to attach just about any file you might have on your device to a message, the latest update brings various interface changes, mostly regarding the in-call. Answering a phone call is now done by swiping up and not to the side of the screen, which will likely rustle some feathers at least in the beginning.
The update is probably rolling to your device right now, but if it hasn't already, don't worry, give it some time - it will likely arrive pretty soon.
Download: WhatsApp (Android | iOS)