You can now pre-order a gold-plated, diamond-encrusted iPhone 6 for 'just' $48 million
31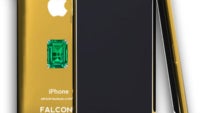 There's just a few hours left until the
iPhone 6 unveiling event
and some luxury studios are already offering super-premium versions of Apple's latest handset. Now, if a
~$2,000 Goldgenie golden iPhone with Swarovski jewels
is too plebeian for you, and a
~$4,000 24K gold-laden handset from Amosu
looks way too common for a person of your stature, you may be interested in a $48.5 million gold-encrusted iPhone 6. How does that sound?
Indeed, Falcon Luxury Group – a studio dedicated to delivering uber-premium Apple devices and accessories – offers a line of solid gold, pink gold, and platinum-plated iPhone 6 handsets, incrusted with different-colored diamonds – from black to pink – and spanning price tiers from $1,650,000 to the whooping $48,500,000. And if you are worried about finding the headphones to match – fret not – Falcon also offers EarPods, plated with the same choice of metals for $300,000 a set.
Well, you may not be one to throw money at this offer, but hey – at least Falcon's renders confirm the iPhone 6 design yet again. So you might as well just check those out. Additionally, the website claims that these are based on the 5.5", 128 GB model, so there's another third-party confirmation that the big storage is coming - though, it could still be at a later stage.