Yankee Group: BlackBerry outselling Motorola Moto X and HTC One
23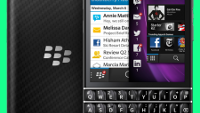 It seems hard to be true, especially in light of
BlackBerry's write down of more than $900 million
of
BlackBerry Z10
inventory last quarter. But according to the Yankee Group, BlackBerry phones are outselling the
Motorola Moto X
and the
HTC One
. This is based on quarterly earnings reports. Not all of the information is positive for the Canadian based manufacturer. The Yankee Group surveyed 375 IT employees and found that only 11% prefer BlackBerry, a far cry from the 45% and 39% that favor Android and iOS respectively. BlackBerry is favored more in the boardroom over Windows Phone, which gets the nod from only 4% of IT pros.
You might recall that back in May, French carrier SFR reported that the then just-released
BlackBerry Q10 was outselling the Apple iPhone 5, the Samsung Galaxy S4 and the HTC One
. But that was earlier this year when the QWERTY equipped
BlackBerry Q10
had just launched. Since then,
BlackBerry has announced that it will lay off 40% of its workforce
and
has agreed to a $4.7 billion purchase
from its largest shareholder.
To BlackBerry's credit, it still has a lot of cash in the bank and no debt.
But the cash won't last forever
and without a hot new product to refill its coffers, eventually the company will end up as the answer to a trivia question. And even if BlackBerry is outselling the Moto X and the HTC One, the real targets are the
Apple iPhone 5s
and the
Samsung Galaxy S4
. BlackBerry isn't the only handset manufacturer in trouble, explaining why it could be feasible to assume that the Yankee Group is right. Last quarter,
HTC announced its first ever quarterly operating loss
while
Google's wholly owned Motorola subsidiary reported a $248 million third quarter operating loss
.
If BlackBerry is outselling the Moto X and HTC One, it is due to sales of its legacy BlackBerry OS 7 models. When the Canadian OEM announced Q3 earnings, it reported that it had shipped 3.7 million smartphones in the quarter. The problem is that most of those phones in transit were BlackBerry OS 7 handsets.
source:
YankeeGroup
(Subscription Reqd) via
Crackberry