Yahoo's new CEO wants the company to buy each employee an Apple iPhone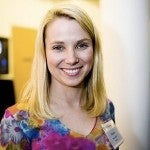 Back when
Yahoo's new CEO Marissa Mayer
worked at Google, her daily driver (her smartphone, not the chauffeur) was an Apple iPhone which probably didn't go over too well at Mountain View. But that is all water under the bridge as the executive no longer works for Google. In the name of consistency, Ms. Mayer would like Yahoo to
purchase for each employee an Apple iPhone
. Certainly Yahoo can afford it as it has $1.91 billion in cash on hand as of the latest quarter.
Apple iPhone
or Android handset as a second phone for personal use. Keeping all employees on a single platform might help boost productivity and all for the cost of about $2 million which is pocket change for the company. The benefit to Yahoo could easily more than make up the cost.
Mayer brought up the concept of corporate-paid iPhones for all at an executive staff meeting and there is some late word that she is open to the idea of giving employees the option of an
Android model for all
, instead. Regardless of which platform Yahoo decides on, the goal is to improve the bottom line which should make stockholders happy, not to mention the manufacturer that gets the business.
source:
AllThingsD