Xiaomi sells an undisclosed amount of Mi Note units in minutes
30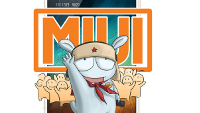 Xiaomi caught many by surprise when it unveiled the arguably best-spec'd Android smartphone right now, the
Mi Note Pro
, which comes with a Snapdragon 810 and 4GB of RAM, but we shouldn't forget about its cheaper and not-so-beastly little brother, the regular
Xiaomi Mi Note
.
It was the subject of the company's latest flash sale in China, and just as we might expect, it did not take long before the willing adopters of this Xiaomi phablet bought out all available units of the phone.
From the looks of it, a surplus of brand new Mi Note devices have been sold, and while Xiaomi won't reveal the exact number of units that were sold, GizmoChina reports that the whole ordeal took no more than three minutes. The Mi Note Pro, on the other hand, is expected to arrive later in Q1 or even in Q2 2015, so those eager to get it will have to wait a little more.
Xiaomi was one of the pioneers of this marketing strategy and from the looks of it, like it still knows how to bring home the bacon. Surely, Xiaomi won't back down in 2015 - it started the year with a "Bang!", and we expect it to continue wooing us in the following months. After all, we are yet to see a successor to the
Xiaomi Mi 4
.