Xiaomi looks to improve on Samsung and LG's use of eco-friendly charging
5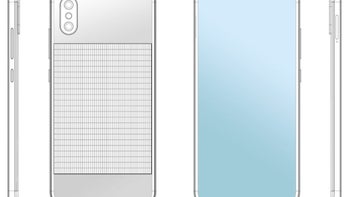 A patent filed with the World Intellectual Property Office
(WIPO) by Chinese smartphone manufacturer Xiaomi (via
LetsGo Digital
) suggests that power users soon might be able to stop dragging their power banks along with their phones. The patent was filed on July 27th, 2018 with the World Intellectual Property Office (WIPO) and was published by WIPO on Friday. It shows a smartphone with an integrated solar panel on the back.
The front of the handset is all screen and since there is no obvious place displayed for the selfie camera (the images from the patent do not show a pop-up mechanism, a notch or a punch-hole), the device could sport an under-display selfie snapper. Back in June,
Xiaomi released a video revealing that it has been working on such a feature
. Also residing under the display is the phone's fingerprint scanner.
Samsung released a pair of phones equipped with a solar panel back in 2009

While the patent shows the solar panel on the back of the device, there is still enough room for a vertically mounted dual-camera set up housed in a module with an LED flash in between the sensors. Having a solar panel on the phone has many advantages. It will store enough energy to allow the battery on the device to self-charge when necessary, extending the time between charges. How much power the solar panel can capture and store is not known.

Xiaomi's idea might seem radical, but it has been tried before. In 2009, Samsung released not just one, but two phones with a solar panel attached. The Samsung Guru E1107 could sit in the sun collecting an hour's worth of rays that could be turned into enough juice for a 5-minute to 10-minute phone call. The Guru E1107 was produced for developing countries where power outages are common. The
Samsung Blue Earth S7550
also featured a solar panel on the back to augment the 1080mAh battery; an hour's worth of sunshine could power a 10-minute phone call. This phone was made from plastic recycled from used water bottles and did have advanced features for a non-smartphone including an HTTP browser. It also offered some eco-friendly reminders to take out the trash and turn off the water tap.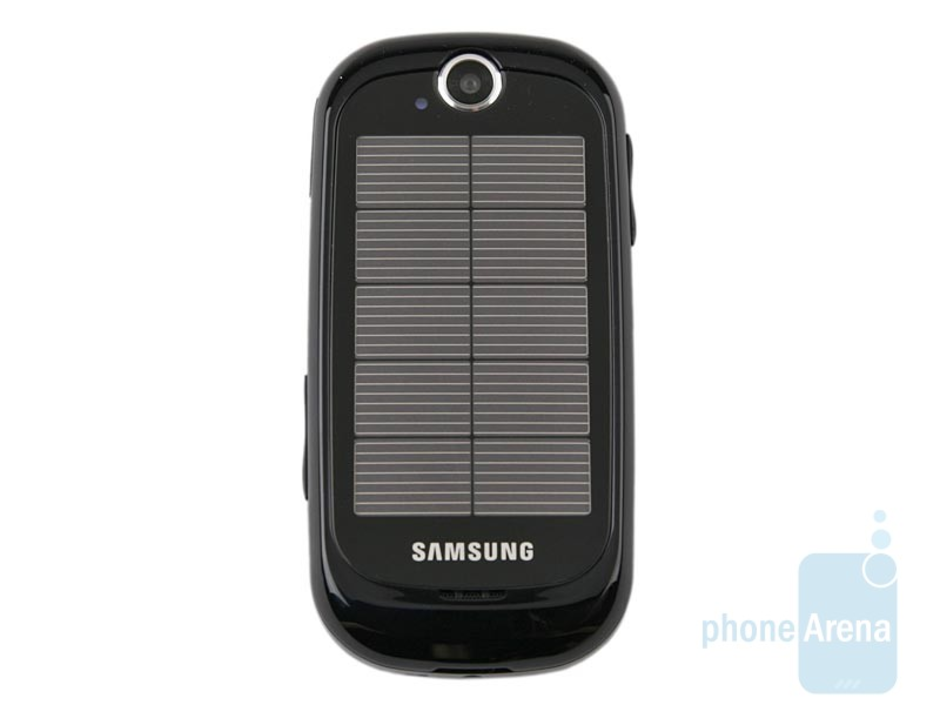 The eco-friendly Samsung Blue Earth from 2009 was made from recycled plastic and included a solar panel
Those with a good memory might recall that back in 2010,
LG released a cover for the LG Pop GD510 that included a solar panel
. At the time, 11 minutes of working on a tan would give the phone an extra three minutes of talk time. It is highly likely that the technology has improved much over the last nine years. Still, the
LG Pop GD510
was actually released late in 2009 with a 900mAh battery, so those extra few minutes of solar fueled talk time were most welcome.
But all of these handsets were feature phones and Xiaomi's design patent no doubt applies to smartphones. And speaking of Xiaomi smartphones, in the U.S. we still await word from the company that it will start selling its handsets in the country. Currently, we can't blame Xiaomi for staying out of the U.S. considering what happened to Huawei. Outside of OnePlus, the U.S. does not have its arms open wide for phones designed and manufactured in China. Last week, President Donald Trump announced a 10% import tax on another $300 billion of Chinese goods imported into the U.S.;
that tier of products reportedly includes smartphones (yes, the Apple iPhone too)
and other consumer electronics assembled in China.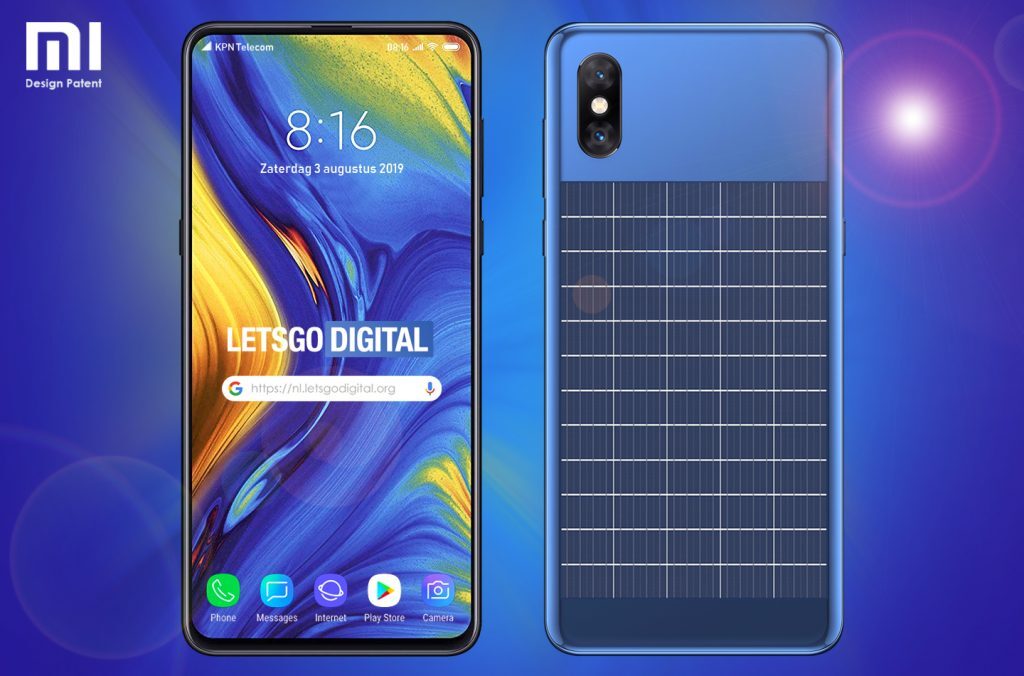 LetsGo Digital's render based on Xiaomi's patent
In July 2018, Xiaomi vice president Wang Xiang said that the company hoped to begin its U.S. invasion by 2019. But earlier this year, the manufacturer's global spokesman said that
the timeframe for such a move was pushed back by at least one year
. The company does happen to sell some products to U.S. consumers
from its Mi.com website
including some smart accessories, cameras, robotics, a wireless charging pad, and a 10000mAh power bank. And that brings us back to the beginning of this story.