Xiaomi reveals details about its own under-display camera tech
11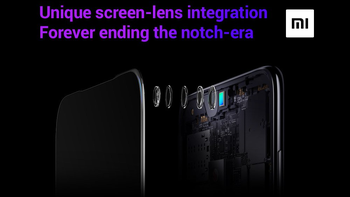 Yesterday,
Oppo gave us a sneak peek
at something all smartphone enthusiasts have been waiting for years — under-display selfie camera. We've all known phones will get there eventually, but until now, all we had seen were sliders on presentations and rumors about the technology's development. Now that we've seen working examples of the tech, however, the hype train is going at full speed.
What you might have missed yesterday is that Xiaomi also released a
video showing off its own under-display camera
technology. The company was just a few hours behind Oppo, but not long after the initial post,
Xiaomi's vice president shared on Twitter
some more info about the company's solution.
We already knew the general idea behind it. Part of the OLED display is turned off so that light can pass through it and reach the camera. Well, that's easier said than done but it seems manufacturers are starting to reach the levels at which this tech is ready for prime time.
Xiaomi's method uses "a special low-reflective glass with high transmittance". This special glass likely aims to solve the problem with the slight tint that transparent OLED displays have even when turned off, which, of course, would affect the image quality of the selfie camera. Perhaps Xiaomi has managed to reduce that to almost unnoticeable or easily-correctable-through-software levels.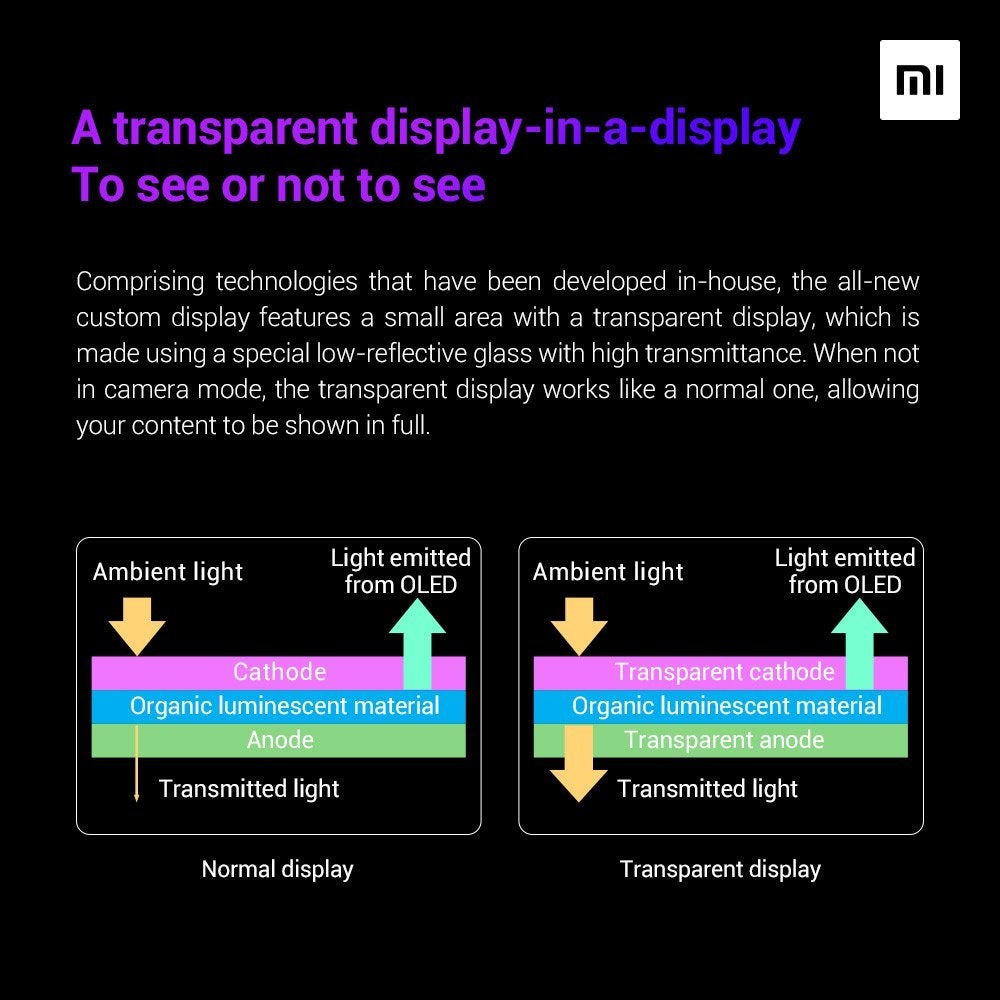 The solution Xiomi is pursuing is not only putting the camera under the display but is actually making the display part of the camera. The transparent part of the display will double as a camera lens. The tech also allows for larger sensors to be used for the selfie camera without sacrificing display real estate or having to deal with ugly notches, so Xiaomi is putting a 20MP sensor in its initial design.
Many thought that at least for the first generation of under-display cameras we might have to suffer through some reduction in image quality, but it seems that might not be the case. Xiaomi promises "perfect selfies, clearer and crisper than the pinhole camera solution" which almost sounds too good to be true, so we're taking it with a grain of salt.
Either way, the new possibilities these hidden cameras allow for might lead to a huge leap in selfie quality and that's on top of the cleaner-looking designs we'll get (without motorized cameras!). And while no manufacturer has given a timeline about when we can expect to get our hands on the first phones with the cool tech, the fact that there are working prototypes already gives us hope that we might even see one released by the end of the year.