Xiaomi Mi 4i receives update to help with overheating issues
15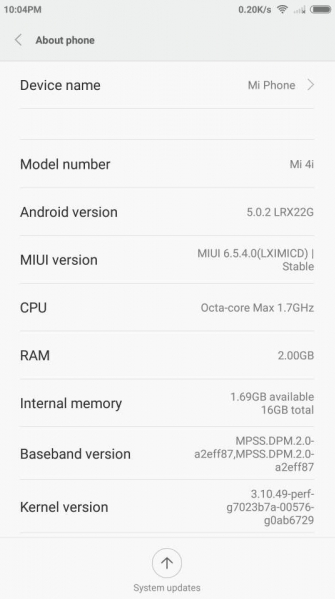 Xiaomi Mi 4i after receiving V6.5.4.0 LXIMICD update to prevent overheating issues
The
Xiaomi Mi 4i
, a lower spec'd variant of the manufacturer's flagship
Xiaomi Mi 4
, is apparently a 'hot" model. And that label has nothing to do with sales of the device, which have been taking place in India via Flipkart. Actually, it is the phone itself that has been overheating. And no, the unit does not employ the Snapdragon 810 chipset. Actually, the 64-bit Snapdragon 615 SoC is under the hood, featuring an octa-core 1.7GHz CPU, and the Adreno 405 GPU.
To combat the heat, Xiaomi has released an 804MB update, V6.5.4.0 LXIMICD, to adjust the thermal control algorithm so that the phone can be more comfortably held in one's hand. Earlier this month, rumors started circulating that the
Xiaomi Mi Note Pro
, which is powered by the Snapdragon 810 chip,
had started to suffer from an overheating condition
that made several units fail. Instead, it was a case of one defective handset that was replaced to the customer's satisfaction, and overheating never was a problem.
According to a statement from Xiaomi India product manager Jai Mani, the update to the Mi 4i will "
adjust frequency, voltage and the number of cores in use (on the CPU) depending on the chipset temperature
." So far, there have been no complaints about the performance of updated Mi 4i units.
"We've heard from some Mi 4i users that their devices can get warm under strenuous conditions such as complex 3D gaming and benchmarking apps. To address these concerns, we've optimized our thermal control algorithms to better regulate the temperature. The new thermal controls adjust frequency, voltage and the number of cores in use depending on the chipset temperature."-Jai Mani, product manager, Xiaomi
via:
mobipicker