Wow! Imagine playing WoW on your Android phone
9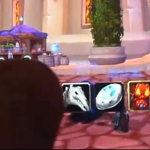 Not that this hasn't been attempted before, but it looks like GameString has come up with a playable version of Worlds of Warcraft for an Android phone. The company has been able to stream the game on to Google TV, but moving it over to a touchscreen smartphone presents a whole different set of problems.
As far as the mobile set-up is concerned, an Adrenalin Host Server was used from a distance about 80 kilometers away, while an HTC Desire was connected to a home network that was running about 2Mbps both up and down. Using GameString's custom Dual-Mode technology system, the game is streamed from a home PC, using the cloud, to the phone. The system also allows for the game to have its own custom UI while you play the same game that is on the host computer. In this case, the game's mobile user interface is designed to help move your character around a touchscreen, such as a translucent dot for your thumb that quickly moves your character around the screen. Larger buttons appear for your spells.
All things considered, this Alpha build appears to bring much of the game's features to a mobile player. At certain times when the action got hot and heavy, there was a drop off in responsiveness. At times, the UI could have used a bump up in size. Still, it is a a good start and considering the number of WoW players spending time in a dark room at home, getting them out in the sunlight and inhabiting stores could actually provide a big pop to the economy.
source:
DROIDGAMERS