Would you buy one of the Microsoft Surface tablets?
85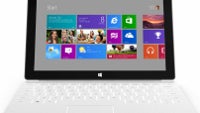 Last night Microsoft dropped a bombshell on all existing and aspiring tablet makers by announcing it is entering this device market with
a slate line of its own called Surface
.
The software giant from Redmond lifted the veil over two 10.6" tablets, powered by different silicon. The one
powered by an NVIDIA Tegra processor
will be running
Windows RT
, the version of Win 8 for the compact and frugal ARM-based chips. The other tablet will be powered by a low voltage Core i5 Ivy Bridge processor, meaning it will be able to run Windows 8 Pro with full legacy programs compatibility.
The Windows RT Surface is thin, light and its pricing will be on par with comparable ARM-based slates, meaning it might fit somewhere in the $450-$600 range, depending on configuration. Its value added is the
Office apps package
, meaning that touch-optimized Word, Excel and PowerPoint are included in the price, but the big unknown is how many apps there will be in store for it at launch.
The Windows 8 Surface steps it up quite a bit with its powerful Core i5 processor, Full HD screen, USB 3.0 port and a stylus tucked in for a good measure, but is thicker, heavier and will be more expensive. Its main virtue is that you will be able to
run the more than a million legacy Windows programs
you might need. Most of them need a mouse and keyboard, and Microsoft is providing two Cover types for its Surface slates, which have keyboards and trackpads in them.
Both tablets have a built-in kickstand to free your hands up, and are beautifully crafted out of magnesium alloy. We wanted to ask you then would you buy one of the Microsoft Surface or other Win 8 tablets? Do you prefer something else, are you happy with your current slate, or do you consider tablets something you can easily get by without? There is a lot to be fleshed out still, like pricing, apps and release dates, but share your first-impression thoughts with us in the poll and in the comment section below.