Withings Go hands-on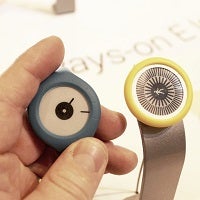 Wearables continue to find unobtrusive ways to be part our lives, and simplicity may be the key. Withings, who made their mark
with the Activité
connected watch last summer, announced a new activity tracker at CES this year.
The Withings Go is a simple wearable that tracks your walking, running, and other activities and aggregates that data in its companion iOS or Android app. The e-ink display is always on, showing you your activity progress, or with a hard press, will show you the time.
The e-ink display means the user replaceable battery will last about 8 months. It is water resistant so you never have to take it off, and while it looks like an activity wearable, the fact that it is also a basic wrist watch is handy.
The actual unit can be removed from the silicone wrist band, and placed in the included belt clip frame, or key-chain if desired. That way, you can use the wearable without necessarily having to "wear" it per se.
The Health Mate companion app will track walking, running, distance, calories burned, in addition to sleep activity. Health Mate also integrates with 150 partners so you expand the feature set, like adding GPS tracking or food logging.
Withings Go will retail for only $69.95. Buyers can select from five colors for the wrist and belt pieces, black, blue, green, red, and yellow. The Go will be available for purchase in the first quarter this year.
Withings Go hands-on