With iOS 5, some OTA updates can be handled through 3G
45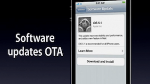 After combing though the iOS 5 SDK, the
9to5Mac
crew discovered that some OTA firmware updates can now be
handled via a 3G connection
instead of requiring you to be hooked up to Wi-Fi. This is part of Apple's plan to make its iOS devices completely free of PC contact. There is a caveat and it is that not all updates will be able to get handled over 3G. It seems that some "
point
" updates, like iOS 5.1.1 might be able to get downloaded through a 3G connection, while iOS 5.1 might still require Wi-Fi. Or, perhaps 5.1 could be
squeezed through 3G pipelines
while iOS 6 will require you to have a
Wi-Fi signal
.
Although unconfirmed, it appears that it will be up to an individual carrier to decide whether or not it will allow an OTA update to be allowed through its
precious pipeline
. One interesting feature that Apple has set up allows the the update process to start only if the user has enough
battery life and storage
to handle the entire download. The Cupertino based firm wants you to have
500MB in open storage
for each "Delta" update. A "Delta" update is one where only the changes and new code are sent instead of the entire program.
While Apple has not officially made any announcement about updating over 3G, at WWDC Apple's Senior VP of iPhone software, Scott Forstall, had mentioned that no longer would a computer hookup be required for an iOS update. But nothing was said about whether such an OTA update would require
Wi-Fi
or could use
3G
even though the slide on the screen at the time showed a 3G powered Apple iPhone. And while we still await official word from Cupertino, at least we now have an idea about which OTA updates can be downloaded using 3G.
source:
9to5Mac

Some smaller "point" OTA updates can now be installed on the Apple iPhone over a 3G connection