Wireless charging pad for Nexus 4, 5, and 7 now available for $49.99
14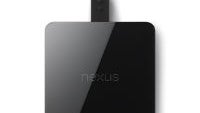 Back on Halloween when the Nexus 5 first hit the Google Play Store, we heard that Google was also planning to release a new
wireless charging pad
for its Nexus 4, 5, and 7 devices. At the time, Google unwisely decided to claim that the new charging pad would be listed in the Play Store that same day, but we knew to not get to caught up in that sort of thing, because it seems Google likes to seriously miscalculate release times.
It took Google nearly 6 months longer than advertised to release
Google Play Music for iOS
, and 3 months between the announcement and release of the
Wireless Charging Orb
. This time around, it only took Google a touch under 3 weeks to get the wireless charging pad up for sale. The new Nexus Wireless Charger (the same official name as the Orb) is now in Google Play, it will cost you $49.99 plus tax & shipping, and right now the store is listing shipping times of 1-2 days.
Google lists the device as compatible with the Nexus 4, Nexus 5, and Nexus 7 (2013), but of course this is a Qi standard wireless charger, so it will work with any device that supports that standard, including many Nokia devices. The wireless charger is only available for sale in the U.S. and Canada.