Windows Phone Tango multitasking gets better with wider app limit (not really)
6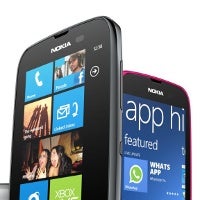 A Windows Phone Tango ROM has fallen prey to the crafty folks over at XDA Developers and there are more changes than the lower bar on WP device specs. Apart from accepting phones with 256MB of RAM,
Tango will now allow up to 8 apps to run
in memory when multitasking, up from the previously allowed 5 apps.
Now, this might not seem like a huge advancement, but we can easily imagine going over the 5 app multitasking limit. Having the option to run up to 8 apps would give the average user a sense of freedom and is definitely welcome.
Updated:
Turns out, the wider multitasking channel feature is
not
officially included in Windows Phone Tango. It's only a part of a custom ROM in XDA Forums.
In Tango, Microsoft has also worked on increased memory efficiency as the latest 8773 platform build uses only 122MB of RAM versus the 153MB used in earlier builds. And finally, MMS support is better - you now have MMS confirmation in WP Tango, something that will come in handy as it seems that not every network/device out there supports multimedia messages.