Windows Phone 8 to replace Bing with 3D Nokia Maps across the platform and integrate Skype in the phone book
8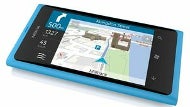 Windows Phone 8 is to replace Bing with Nokia Maps entirely, says the latest rumor, and introduce
3D maps with offline navigation across all platform devices
. Thus in that regard Windows Phone will have an advantage before Android and iOS, since its maps and voice-guided navigation don't require Internet access.
Another juicy tidbit what might be unveiled next week at Microsoft's developer conference is that
Skype will be integrated directly in your phone book
, and used as a phone service, but Microsoft will leave the space open for other 3rd party communication apps as well.
Apart from the massive backend overhaul of Windows Phone 8, replacing the Windows CE with the WinRT kernel that is used in Win 8, Microsoft has added a number of front-end improvements as well, such as a new direction for the camera app, similar to Lenses. The camera interface improvements are apparently spearheaded by Nokia, as
Chris Weber pointed out in an interview
, with the determination to
bring a Lumia phone with the PureView camera tech
to retail.
Recommended Stories