Windows 95 lives again! On a Samsung Gear Live smartwatch?
15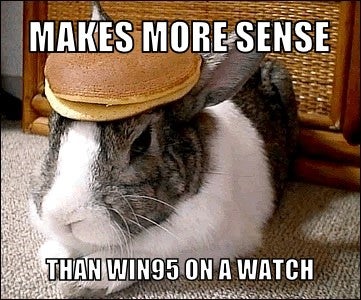 Here's something you don't see every day – or
any day
really. There appear to be no limits to the reaches of technological accomplishment. For that
one
person out there wondering if they would ever be able to run Windows 95 on their Android Wear smartwatch, in this case, specifically the
Samsung Gear Live
, the answer is, "yes, almost."
When you think about what is under the hood of that little watch, it actually proves to be a perfect platform for a legacy desktop operating system like the much maligned Windows 95.
This wizardry is made possible thanks to aDosBox, an Android app that functions as an emulator, in this case allowing an x86 OS to operate an ARM-based architecture. Taking the small 1.6-inch display out of the equation for the moment, a quad-core Qualcomm Snapdragon 400 CPU, 512MB of RAM, and 4GB of storage is more power than what was common on a desktop PC 20 years ago.
One would think that the super small screen would not lend itself to easy manipulation of the cursor, and you would be correct, but looking at the video below, we must say that we were impressed with how things operated overall. The resolution of the display made things look a bit garbled, but if you have any memory of using Windows 95, it could be simply the OS misbehaving. In fact, Windows 95 continued to live up to its image with warning messages, slow operation, and system freezes.
No practical use will come from this, but we still think it's pretty cool.
source:
SmartWatch Apps