Will John Chen decide to make BlackBerry a software-only company?
62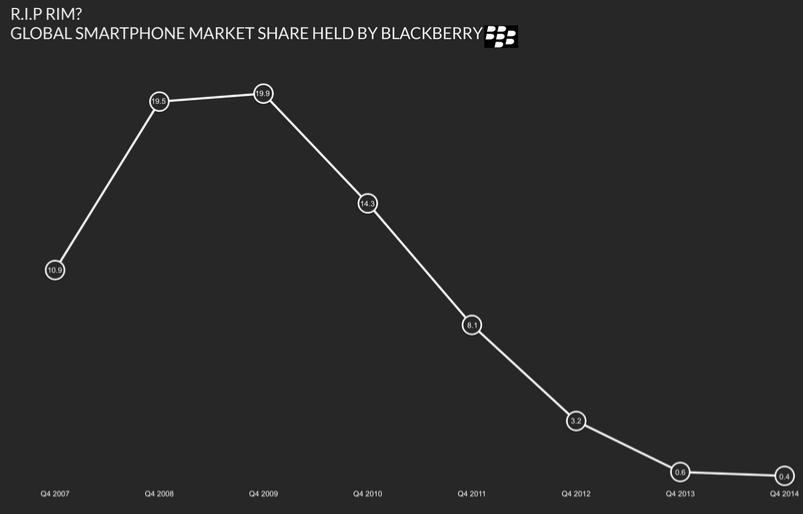 BlackBerry's share of the global smartphone market has been in free-fall for years
With its share of the global smartphone market now under .5%, BlackBerry CEO John Chen might have to make a hard decision concerning future sales of handsets. An amazing report issued by Morgan Stanley last week
suggested that the company has sold only 8000 units of the BlackBerry Passport and BlackBerry Classic
during this current quarter. Consider that AT&T is selling both models, that seems quite hard to believe. Morgan Stanley's James Faucette says that BlackBerry will have to hustle to sell 2 million to 3 million old-school
BlackBerry Classic
units in fiscal 2016.
Last quarter,
BlackBerry brought in $793 million
, a 33% drop year-over-year. In order to reverse this trend, BlackBerry has started offering its BlackBerry Protected, a secure IM client that eliminates "man in the middle attack" allowing the encryption keys to be generated by both phones involved in the chat. The beauty of Protected is that
it allows a company to chat outside the enterprise, or with customers, and keep the communication secure on both ends
. And since this is part of BES 12, it will work on BlackBerry, Apple, Android and Windows Phone handsets.
Chen says that BlackBerry could hit $500 million in revenue from software and services alone in fiscal 2016. That would be a 100% rise from the prior year. Could BlackBerry thrive as a software company? Obviously, the focus would be on secure communications. The company recently partnered with Samsung and IBM to stuff a
Samsung Galaxy Tab S 10.5
with encryption software produced by Secusmart.
The device, called the SecuTablet,
will be a premium slate for the enterprise
priced at $2380. BlackBerry
purchased Secusmart last summer
.
We could see BlackBerry focus on other situations where it stuffs another manufacturer's device with its encryption and security software. If you're a fan of BlackBerry's hardware, the bad news is that the clock is ticking. We might see one more effort from the company to produce another flagship device
with a physical QWERTY that partially hides away inside the body of the phone
. If this device doesn't sell, Chen might decide to make BlackBerry focus on software only.
source:
FinancialTimes