BlackBerry might be prepping a hybrid touchscreen smartphone with a hidable keypad
23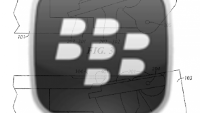 Back when
Joch Chen initally hinted
that the company will be putting emphasis on top-end QWERTY-toting smarpthones in the future (as enterprise purportedly favored these over all-touscreen ones), little did we suspect that the unorthodox and squareish
BlackBerry Passport
is in the pipeline. Well, the latter is already a fact, but it seems that BlackBerry might be prepping something even more curious and compelling.
One of the more recent patent applications that BlackBerry has filed with the USPTO describes a device, codenamed "Visa" or "Victoria", which will have both a large touchscreen and a swiveling two-row keypad, which can be neatly hidden thanks to a mechanism at the bottom of the device. At all times, a single row of keys will remain at the user's disposal under the bottom of the screen, and it is speculated that it will probably double as a trackpad, similar to the keyboard found on the BlackBerry Passport.
It gets even more interesting when the alleged release date comes into play - it is said that the BlackBerry Visa/Victoria might see the light of day sometime in Q2 2015. Provided that BlackBerry is actually working on such a device, that is.
source:
USPTO
via
BerryReview