Why the iPhone 5 probably won't double Apple's market share
76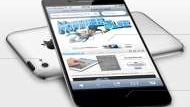 Gene Munster is an analyst with Piper Jaffray, and a reasonably good analyst too, depending on what he's trying to predict. He's quite good at having inside info as to when Apple will be releasing certain products, but his predictions for success or failure of products has had a spotty history. Once, he predicted that Apple would have $1.2 billion in app sales in 2009. Apple ended up with $4.2 billion in app sales for 2009. Predictions are difficult, we understand, and Munster has had a fair record of being right, or at least close. Now, Munster is claiming that the iPhone 5 will double Apple's market share in the smartphone world, and we're sorry to say that we can't really get behind that thinking.
A reputable source doesn't guarantee a reputable study
Okay, first thing's first here, let's lay out one ground rule for anyone reading about statistics or studies: sample size is king. If your study doesn't poll enough people, your results mean nothing. You could poll a few hundred people in Japan and try to claim that 90% of the world doesn't speak English, but it's not the most reliable data. Piper Jaffray is a good company with reliable research, but what was the sample size for Munster's claims? 216 people.
216 people isn't even a reliable sample size to find out if people like bacon or not, so it's really hard to trust this one. On top of that, of those 216 people polled 28% had a BlackBerry, 26% had another type of phone, 29% had an iPhone and a mere 17% owned an Android. So, right off the bat, even if we remove the feature phone users from the study, we're looking at a sample that doesn't represent the true market in which
Android held 48%
worldwide in Q2 of this year. Whereas, most estimates have Android around 35-40% of overall smartphone install base, with iOS around 20% and BlackBerry around 15%.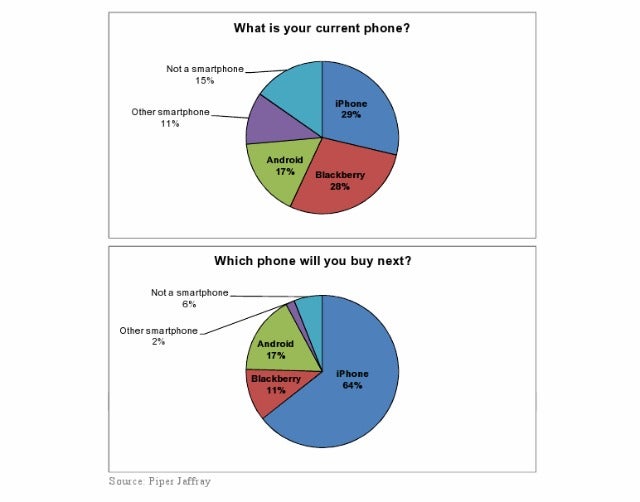 The claim that
74% of Verizon customers were waiting on the iPhone 5
came from this same study, although we don't know how many of the 216 polled were Verizon customers. Let's assume for arguments' sake that half of the people polled were Verizon customers, that's only a 108 person sample size, which is definitely difficult to take at face value. Of all respondents in Munster's poll, 64% planned to buy the iPhone 5, but we just can't see how that number can be extrapolated to cover the entire smartphone market. Apple has been staying very steady in market share at around 20-25% depending on the estimates, while Android has been gaining and BlackBerry losing share. The study also doesn't seem to specify whether the doubling of Apple's market share is US-only or world-wide. If we're talking about just the US, we're being asked to trust data from 216 people to scale to a country of over 300,000,000, which is nearly impossible as is, let alone trying to extend to the entire globe.
Other issues with the predictions
Aside from the very small sample size used to arrive at these numbers, there are two major issues that need to be considered when it comes to predicting the iPhone 5's success. First is competition. AT&T has been beefing up its Android selection and Windows Phone 7 selection, so the iPhone isn't the only option for AT&T customers. As the
Q2 revenues showed for AT&T
, Android is making a big push on the carrier, and iPhone 5 or not, this can only be a bad thing for Apple. Verizon has been the biggest seller of Android devices, and Android has continued to thrive even with the introduction of the iPhone 4 on Verizon. It's certainly likely that some Verizon customers will have skipped the iPhone 4 and Android to wait on the iPhone 5, but the competition is fierce out there and only getting tougher with more Androids on AT&T and WP7 Mango devices on the horizon.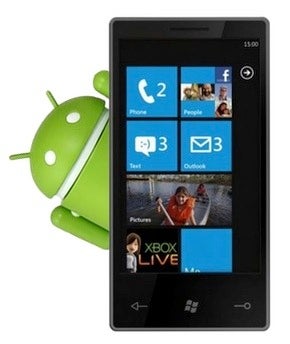 Secondly are the troubles surrounding LTE. If the iPhone 5 doesn't have LTE, by the time the iPhone 5 launches in October (assuming those rumors are true), Verizon will be close to its goal of having LTE in 145 markets with more coming in 2012. Verizon has already changed its early-termination options and killed one-year contracts. So, if new users are going to be locked into a 2-year deal, will they really want a 3G-only iPhone?
Also, there is no guarantee that the iPhone 5 will have LTE, and if it does, the added cost could change forecasts. So far, LTE enabled devices on Verizon have been on average $50 more expensive than comparable non-LTE devices. $200 has been the sweet spot for smartphones, so it's unclear how well a $250 iPhone would sell. The
HTC ThunderBolt was said to outsell the iPhone
on Verizon early on (although this survey seems pretty unreliable as well), so maybe the extra cost won't make much of a difference, but we just don't know right now.
Overall, it's very difficult to trust a study of just 216 people, but beyond that Apple certainly doesn't have an easy road ahead. Expectations and buzz around the iPhone 5 will be big, as they are with any Apple device these days, but just because there's buzz doesn't always mean much. The buzz has been big for every iPhone so far, and Android still took over the market just by sheer numbers.
It is still possible that the iPhone 5 will in fact double Apple's market share simply because feature phones and BlackBerries are likely going to continue to lose their market share. As feature phones continue to become a smaller and smaller piece of the overall mobile spectrum, that leaves more room for smartphones, and RIM has yet to prove that BlackBerries can stay competitive. Many analysts still see Windows Phone grow in popularity, and that climb may begin to ramp up during this purchasing cycle, but likely won't be at full steam, so that leaves a lot of space for iPhone and Android to grow. But, as yet Apple hasn't been the company benefitting from the decline of BlackBerry and feature phones, and doubling market share is a big task. It's possible, but these numbers don't give enough to believe it will happen.