Android now on nearly half of all smartphones
16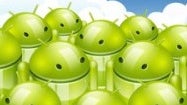 There are over 500,000 daily Android activations and we know this for a fact, but the platform has proliferated to now
reach nearly half of all smartphones in the world
, research gurus from Canalys stated in a report summarizing data for the second quarter of the year. To be perfectly correct, Android's exact market share stands at 48% as per the researchers, with Asia Pacific being the largest market out there.
Google's platform has taken the crown by shipments in the fourth quarter of 2010 and since then it's only increasing its presence. In the second quarter,
Android phone shipments
stood at 51.9 million units, skyrocketing 379% on the year. Samsung, HTC and LG were in the forefront of the Android race and not surprisingly the home countries of those companies showed strongest presence of the platform – 85% in South Korea and 71% in Taiwan. There were more than 107.7 million smartphones in general shipped in the second quarter, an impressive 73% growth year-on-year.
Meanwhile, the iPhone and
iOS outgrew Nokia
and moved to the second most popular mobile OS spot with 20.3 million iPhones sold. Apple's OS has a market share of some 19% in smartphones. "With the next-generation iPhone anticipated in Q3, it's likely that Apple's position will grow even stronger in the second half of the year," principal analyst at Canalys Chris Jones said.
At the same time, Jones noted that Samsung which was best positioned to
capitalize on Nokia's decline
, failed to do this to a full extent. Nonetheless, the South Korean company was the biggest Android vendor registering 17 million in shipped devices.
Windows Phone
device shipments are still very small at less than 1.5 million units, Canalys added. Microsoft's financial results for the fiscal year ending this quarter showed that the company has registered less than $600 million in WP7 sales, which is far from impressive.