Which blends better, the Apple iPhone 5 or the Samsung Galaxy S III? Let's go to the tape
64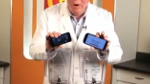 For the uninitiated, Blendtec is a blender manufacturer that likes to shove gadgets into their products to see if they will blend. For example, back in 2011 (oh those far away times), the company
shoved an Apple iPad 2 into a blender and turned it on
. With the
Apple iPhone 5
and the
Samsung Galaxy S III
considered the top two handsets on the planet at the moment, it was decided to make "Will it Blend?" into a competition.
As you might imagine, both phones were a pile of rubbish inside of two minutes. Blendtec's Tom Dickson had a couple of cute lines. Removing the top of the blender containing the chopped up iPhone, a wisp of smoke came out. "Siri smoke," Dickson called it. And opening the blender containing the Samsung Galaxy S III, Dickson said, "It smells like Jelly Beans." It must have been one of those
international models that was recently updated to Android 4.1
.
After viewing such a painful thing, all we can utter is those five words that separate us from the wild animals. Don't try this at home.
source:
Blendtec
via
AndroidCentral